>
---
>
Patreon is a platform where fans can support what we do – kind of like an ongoing 'kick-starter' or 'go-fund-me' for creators. In return, CONTACT offers rewards to our very valuable Patrons – from a simple thank you to our "CONTACT Privates" right up to serious advertising packages, where the rewards translate into significant savings on 'traditional' advertising.
Your patronage will help sustain CONTACT long term and help us deliver even more value. If you love CONTACT and want it to stick around – even get back to printing magazines (on actual paper) again – then please consider becoming a patron. Details here.
Other, non-scheduled rewards, will be offered from time to time – even to CONTACT Privates. One such reward, which is only available to Patrons (including new ones) is our Weapons of the ADF handy reference guide now rejigged to print on standard A4 paper and back-to-back for even easier loading into viewee twoees. Find that in the third post on our Patreon page.


Also, our first Captain and first four Sergeants all received a copy of Ken Burns' The Civil War on BluRay (worth $99.95), thanks to ViaVision.
The following people are proud members of the…
CONTACT Patron Army:
CONTACT Captain
David Tatler of Ermington, NSW, is our first CONTACT Captain.
Incredibly, David is not an advertiser and not looking for advertiser rewards.
"I'm doing this as an interested citizen. Both my brothers were Nasho's (John, my eldest brother, did Vietnam) and my dad served in the Royal Navy during WW2. Keep up the great work."
Thank you David – you are truly an officer and a gentlemen.
CONTACT Lieutenant
Aaron Bonnett of Waroona, WA, is our first CONTACT Lieutenant.
Aaron obviously saw the extra rewards in being a junior officer as worth the extra pledge – and I am so pleased he did. I'll be watching this young officer's career very closely.
CONTACT Sergeant
David Read of Regents Park, Queensland, is our first CONTACT Sergeant.
David is also the dedicated CONTACT fan who encouraged us to start this Patreon campaign.
Thank you David.
Dennis Michael Mitchell of Greenleigh, NSW, enlisted as our second Sergeant on 2 December 2017. Welcome to the Sergeant's Mess, Dennis
Rod Charman of Mildura, Victoria, joined our ranks as a sergeant on 7 December 2017. Welcome to the Sergeant's Mess, Rod.
Amba Beedie of St Kilda South, Victoria, joined our ranks as a sergeant on 9 December 2017. Welcome to the Sergeant's Mess, Amba.
Peter J Thomas OAM of Torquay, Victoria,  joined our ranks as a sergeant on 28 January 2018. Welcome to the Sergeant's Mess, Peter.
Other ranks
We also currently have 4 CONTACT Corporals and 6 CONTACT Privates.
Thank you all most sincerely.
.
.
RECRUITING NOW!
We are hoping to recruit more CONTACT Patrons at all rank levels, some of whom will be listed above by name, some of whom, depending on 'rank', will have their company name and logo displayed and hyperlinked above and in CONTACT magazine, and may have proper advertising entries on every post of this web site, in our fortnightly newsletter and in CONTACT magazine.
If you want to see your name or company logo/details highlighted on this page and elsewhere throughout the CONTACT platforms – become a CONTACT Patron today.
View general 'recruitment' details here or get a more detailed explanation of the higher 'ranks' (i.e. advertising packages) here – or contact Brian Hartigan on 0408 496 664 or email advertising@militarycontact.com to discuss options.
.
.
.
---

---

.
.
.
---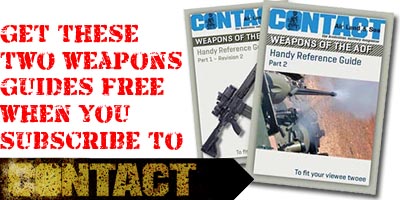 ...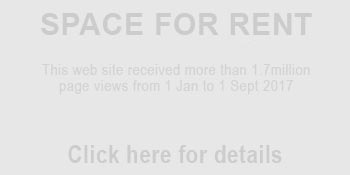 ---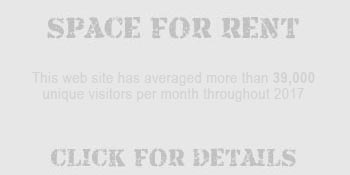 ...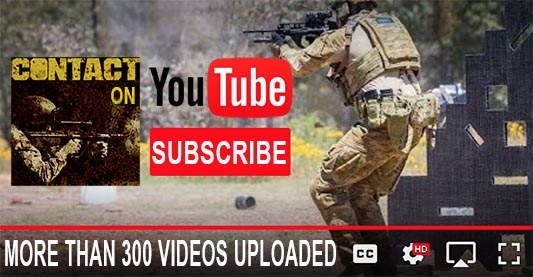 ---
.
.
3522 Total Views
6 Views Today