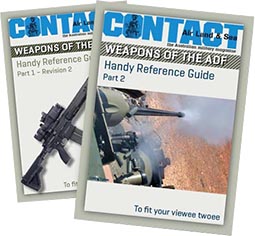 Subscribing to CONTACT is completely free and totally simple – and safe.
We'll send you a weekly newsletter and quarterly magazine – plus, if we see something that important or interesting, we might send an extra 'Newsflash' from time to time.
All we need is your email address, nothing more – simply fill in the form below or email editor@militarycontact.com
After you sign up, you'll get access to our free and unique viewee-twoee-sized Weapons of the ADF.
.
.
.
153281 Total Views
50 Views Today