Welcome to the Museum of Arrogant Hubris.
Most of the images and designs in this collection were worn proudly as morale-boosting emblems on shoulder patches or PT shirts in informal settings.
They were mainly only sanctioned and/or tolerated as informal, good-natured, internal representations of unit or even sub-unit camaraderie – otherwise known as esprit de corps.
But, these are all now banned in the Australian Defence Force – especially Army – yet still remain as fond memories – and treasured 'illegal contraband' – for many serving and ex-serving Australian military.
More submission wanted.
Please send to editor@militarycontact.com
EXHIBIT 1:
T-shirt designs by veteran artist Codey Anderson.
See heaps more work from this amazing artist on his Instagram page, here.
.
EXHIBIT 2: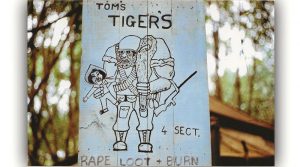 Dear Sir,
Would this sign be classed as Arrogant Hubris? It was put up outside of my tent in Vietnam in 1970, painted by one of my section.
Cheers, Tom Elliott,
Section Commander, 4 section, 5 Platoon, Bravo Coy, 8RAR.
A most worthy entry – thank you Tom. And thank you for your honourable service – Ed.
EXHIBIT 3: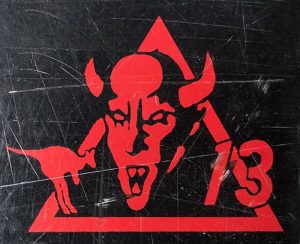 This from most likely 1st Armoured Regiment,  A Squadron, 3 Troop, from some time ago.
Not 100% sure as I was Cav.
Keep them coming.
Best regards,
Spent Cartridge
.
.
.
.
CLICK ABOVE IMAGES TO ENLARGE
The idea for this 'museum' came about thanks to this Letter to the Editor.
More submissions welcomed.
Write to editor@militarycontact.com
The use of what could be termed 'death' symbology/iconography: for example the pirate Skull and Crossbones (maritime outlaws and murders), the Phantom or Punisher symbols (vigilantes), Spartans (extreme militarism) or the Grim Reaper (Bringer of Death) – implicitly encourage the inculcation of an arrogant hubris.
Commanders must take immediate action to remove such symbology/iconography from all formal and informal use within the Army.
Lieutenant General Angus Campbell
then Chief of Army – now Chief of Defence Force
April 2018
.
.
.
.
2840 Total Views
204 Views Today