FOUNDERS' UPDATE: Charity career ends the same day it began.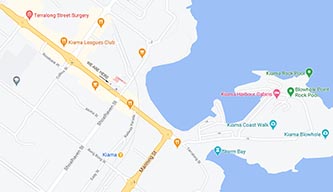 WHERE WE ARE:
Under new management:
We are located (or at least will be one day – maybe) in the former Illawarra District Ambulance Station at…
61 Terralong St
Kiama, NSW 2533
…the first building on the left downhill from the Memorial Arch on Kiama's main street – and our offices are through the first door on the left when facing the building (though we will probably spend much of our time underneath, in the ambulance parking bays, best accessed via a short lane off Shoalhaven St).
All enquiries should be directed to Soldier On
HOW TO GET HERE:
By road – Kiama is off the Princes Highway, about 90 minutes south of Sydney. Once you get to Kiama, we're dead easy to find – on the middle of the main tourist strip, opposite the shops on the side of a wide-open park – the first building down hill from the Memorial Arch.
By train – Kiama is the last stop on the Sydney electrified rail network's South Coast Line. There's an almost hourly train most of the day and into the night. Our office is a three-minute walk from Kiama Railway Station (turn right at the only exit, then left at Terralong St and, after a short walk up the main street, we're on the right just after the pedestrian crossing). The train ride takes about two hours from Sydney's Central Station.
WHERE TO STAY:
Kiama has a wide range of accomodation options, from luxury hotels and resorts to motels, B&B, and holiday homes, as well as several high-quality camping parks with everything from self-catering cabins to basic tent sites. See local tourist-board listings here.
While there are no free camping facilities in Kiama, nearby Jamberoo allows campervans to park alongside the creek near Kevin Walsh Oval.
WHERE TO EAT: 
Kiama is a tourist town, well set up to cater for all short-stay or long-stay visitors. Our building is slap bang in the middle of the main tourist strip, with cafes left and right on the opposite side of the street. One complaint, though – it is hard to find coffee in Kiama after about 3pm, unless you are dining in one of the many restaurants. We have a good range of great eating houses, from pub to posh, from take-away to silver service.
WHAT ELSE TO DO:
Kiama is a tourist town, famous for its Blowhole – a water spout that erupts near the lighthouse when wind and waves are favourable. We also have beaches, coastal walks, rainforests, green rolling hills, regular markets and loads of other visitor-friendly attractions.
While Kiama is a 'tourist town' it is more of the laid-back, lazy, cafe-culture, do-it-at-your-own-pace kind of tourist town.
When you're not playing with us at the Veteran H.E.L.P. Centre, find loads more to do here.
.
.
.
.
.
3519 Total Views
2 Views Today