Defence releases more detail on Chinese laser-pointing incident
Share the post "Defence releases more detail on Chinese laser-pointing incident"

Defence today outlined, in a lot more detail, the laser-pointing incident involving a Chinese warship and a RAAF P-8A Poseidon last Thursday.
CAPTION: A Royal Australian Air Force reconnaissance photo of a Peoples Liberation Army-Navy Luyang-class guided missile destroyer that transited from Indonesia to the Pacific via the Torres Strait from 11 to 18 February 2022.
The incident has quickly become embroiled in not just international diplomatic finger pointing, but domestic party-political shenanigans as well.
Usually reticent to discuss operational matters, Defence has been forced to divulge intimate details of the Poseidon's interactions with the People's Liberation Army – Navy (PLA-N) ship, releasing even more detail this afternoon to clarify/bolster what it released on Saturday.
.

Defence's latest statement reads…
On 17 February 2022, an Australian Maritime Patrol Aircraft P-8A Poseidon detected a laser illuminating the aircraft while it was conducting a routine surveillance flight over Australia's northern approaches.
The laser was detected as emanating from a People's Liberation Army – Navy (PLA-N) vessel. Illumination of the aircraft by the Chinese vessel is a serious safety incident.
Defence conducts surveillance patrols as part of our integrated and layered approach to surveillance of our maritime approaches including the Australian Exclusive Economic Zone.
These activities are conducted in a disciplined and safe manner, well clear of surface vessels and in accordance with international law, particularly the United Nations Convention of the Laws of the Sea (UNCLOS).
To surveil the approaches to Australia the P-8A is equipped with an array of sensors to locate, track and understand air, surface and subsurface contacts.
Surveillance activities are conducted using all available surveillance tools including photography, sonobuoys and radio calls to identify maritime and air traffic.
The use of sonobuoys for maritime surveillance is common practice.
Sonobuoys are used to collect passive acoustic data on environmental activity as well as surface and sub-surface contacts. These buoys are a receiving buoy only and do not pose any hazard to shipping.
No sonobuoys were used prior to the PLA-N vessel directing its laser at the P-8A aircraft on 17 February. Some sonobuoys were used after the incident but were dropped in the water a significant distance ahead of the PLA-N vessel.
The aircraft was acting within international law at all times.
At the time of the lasing incident the RAAF P-8 was approximately 7.7 kilometres from the PLA-N vessel and was flying at an altitude of 457m.
The closest the P-8 flew to the PLA-N vessel was approximately 4 kilometres.
This is a standard flight profile for RAAF maritime patrol aircraft for a visual investigation of a surface vessel.
Australia expects all foreign vessels entering our maritime zones to abide by international law, particularly the UNCLOS.
Australia has raised its concerns to the Chinese Government about the lasing incident, via senior Australian Defence and DFAT officials liaising directly with the Chinese Embassy in Canberra. Senior diplomatic staff in Beijing have also raised the matter with both China's Ministry of Foreign Affairs and Ministry of National Defense.
Australia supports and respects the rights of all states to exercise lawful freedom of navigation and overflight in international waters and airspace.
Australia does not engage in the spread of misinformation or disinformation [only obfuscation? 😉 Ed].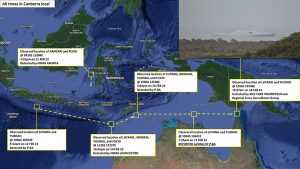 EDITOR'S NOTE: Aside from the discussed P-8A Poseidon encountering/monitoring the Chinese ships, even more detail can be gleaned from the HQ-JOC-supplied (last Saturday) map – specifically, that HMAS Ships Arunta and Launceston, as well as Border Force's ABV Cape Inscription were involved in observing the ships, with ground-based observation conducted by 51 Far North Queensland Regiment. Also, at various stages along the route, Defence lists the names of four Chinese ships, but only mentions two in its narratives.
Just saying 😉
.

.
.

.

---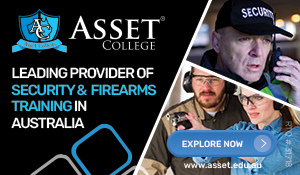 ...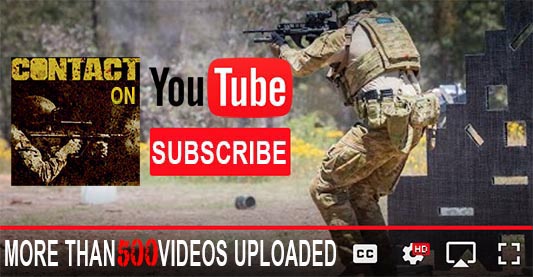 ---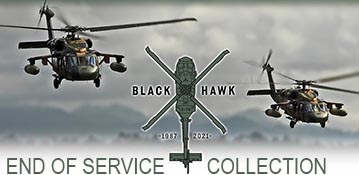 ...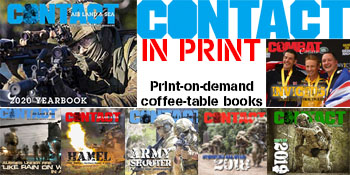 ---
.
.
Share the post "Defence releases more detail on Chinese laser-pointing incident"
7027 Total Views
2 Views Today