Family and friends mark the 20th anniversary of the Black Hawk tragedy
By Corporal Mark Doran
ARMY marked the 20th anniversary of the 1996 Black Hawk tragedy that took the lives of 18 soldiers with commemorative services held around Australia on June 12.
Caption: Former Australian Army soldier Corporal Gary Proctor, a survivor of the 1996 Black Hawk helicopter crash, at a 20th anniversary commemoration service in Townsville on 12 June 2016. Photo by Corporal Mark Doran
Chief of Army Lt-Gen Angus Campbell, Commander Socomd Maj-Gen Jeff Sengelman, and Commander Forcom Maj-Gen Gus Gilmore, joined several personnel injured in the accident and family members of those killed at a commemorative service at the Townsville Palmetum.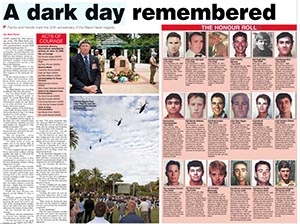 About 1000 members of the Townsville community joined current and former Defence personnel to pay their respects at the emotional ceremony.

On the evening of June 12, 1996, at 6.30pm, two Australian Army Black Hawk helicopters flying in a formation of six collided during a night training exercise near Townsville.
The Black Hawks were travelling at 200km/hr, 30m above the ground. The first Black Hawk crashed immediately, killing 12 people on board. The second Black Hawk was able to make a crash landing, but unfortunately caught fire and another six Army personnel were killed. Twelve others were injured. Fifteen soldiers of the Perth-based 1 Sqn SASR and three soldiers of the Townsville-based B Sqn 5 Avn Regt lost their lives in the accident.
During the memorial address Lt-Gen Campbell said the tragedy, as for many, gave him a personal sense of shock and loss, especially as he had only handed over command of 1 Sqn SASR in December 1995.
"Friends and colleagues I had served with since selection to the regiment were gone," he said.
"But not forgotten – never forgotten.
"Sons, brothers, partners and fathers were taken before their time.
"An empty locker at work, an empty seat at the dinner table at home, empty nights for those left to carry on."
Lt-Gen Campbell said the special forces and aviation soldiers working together that night in 1996 lived the ideal of existing for others.
"It was already evident in their commitment to excellence in one of the most demanding military training endeavours," he said.
"It was manifest in their immediate reaction by running into aircraft wrecks with exploding munitions to rescue comrades and in some cases running back to the aircraft while severely wounded in order to try and save their mates."
Fourteen men who without fear for their own safety worked to rescue the survivors – despite their own injuries, fire and exploding ordnance – were recognised for their efforts.
SASR Cpl Gary Proctor was aboard aircraft 'Black 2' when it crashed.
Although injured, Cpl Proctor placed himself in great danger by assisting the pilots and crew to get clear of the wreckage before attempting to free others who were injured and remove the bodies of those killed.
He was awarded the Star of Courage.
Cpl Proctor said the commemorative service was a fantastic way to remember those who died in 1996.
"For the survivors, it's just good because we can support each other," he said.
"The most emotional part was when the MRH-90 Taipans of 5 Avn Regt flew over the memorial and broke into the missing man formation in the final stages of the ceremony.
"It gets me every time – you get over it, but you never get used to it.
"For the families, we spent the days leading up to this event with the parents who lost sons, kids who lost fathers and wives who lost husbands.
"We also flew to the crash site in a Chinook on Saturday for a small, solemn service for the next of kin and members of 5 Avn Regt, which was organised perfectly."
In the immediate aftermath of the Black Hawk crash, SASR Sergeant Mick Williams continuously placed himself in great personal danger in his endeavours to save the trapped men.
He was awarded the Bravery Medal.
Sgt Williams said although it had been 20 years, the survivors and families of those who were killed had not really all been together since.
"To me it's more of a celebration of their lives, not their loss," he said.
"It meant a lot to be here and catch up with everyone.
"Lt-Gen Campbell was my squadron commander in 1995 and Maj-Gen Gilmore was my commanding officer at one stage.
"Visiting the crash site was an emotional experience and it was amazing to see the area was still bare earth.
"What stood out during the past few days was the amount of support we have received from the Townsville community.
"It was outstanding."
After the main ceremony, wreaths and gifts were laid at the memorial and 18 trees were planted at the site by the families of those who were lost, the survivors and the attending dignitaries.
.
Published in ARMY Newspaper 30 June 2016
.
.
.

.

---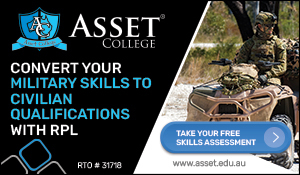 ...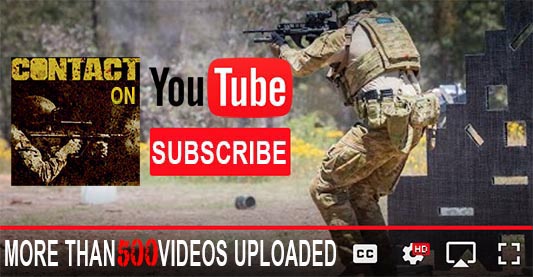 ---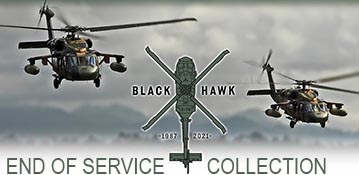 ...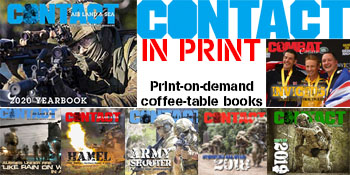 ---
.
.
39369 Total Views
4 Views Today