Military Fitness – Part 17


In any fitness program where the goal is to perform at a high level in a competitive or combat environment there are several different types of training sessions that need to be integrated into the program to ensure success.
In general terms, these sessions can be broken down into the following categories, many of which have been discussed in previous issues.
Pre-habilitation – exercises and workouts designed to prepare the body for more rigorous activities
Base strength – heavy weight training to improve strength and muscle mass

Basic conditioning – aerobic and anaerobic activities such as running to build endurance across a wide range of time domains
Job-specific conditioning – workouts that integrate all the previous components and build a high tolerance for the demands of the job or sport.
We've previously looked at injury prevention and various methods of developing basic strength and conditioning such as kettlebell training, strongman and basic barbell exercises, so in this article I want to examine a practical way of tying all these elements together for military personnel.
---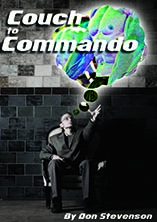 Couch to Commando by Don Stevenson is a 165-page e-book with programs in 6 different levels to progress anyone from couch potato to commando candidate.
20% of proceeds from the sale of this e-book will be donated to Soldier On
---
For sports people, specific conditioning comes in the form of playing your sport or practicing drills and skills from that sport in a controlled environment. This approach is sometimes not practical for military personnel as bush training blocks may be weeks or months apart and, clearly, going into combat happens fairly rarely – and is the wrong time to be developing fitness!
Instead, military personnel are well served by what I like to call 'battle PT'
Now, a lot of units run sessions labeled as battle PT, but sometimes these sessions are simply regular circuits performed in an austere environment and are not true job-specific conditioning sessions.
The critical components that go into a battle PT session are as follows.
The session should be conducted in full patrol order, including weapons or simulated weapons, and protective gear, including armour if worn on operations.
The session should test and train multiple aspects of fitness with a major emphasis on repeated high-intensity bursts of exercise.
If possible, job-specific skills such as fire and movement, casualty carries and obstacle clearing should be included.
Battle PT can be performed individually, but group sessions with a focus on teamwork and communication are ideal.
Battle PT should be carried out in a variety of realistic weather conditions from cold and wet to hot and dry. Care must be taken, however, not to endanger participants in extreme environments.
Typically, when designing programs for infantry soldiers, I include one battle PT session each week or fortnight and generally one to two per week for guys looking to make the step up to Special Forces.
So, let's have a look at some example battle PT sessions. Keep in mind that there are hundreds of ways to structure these sessions and the only limit is your imagination in combining available terrain and equipment into workouts.
Individual workout – you'll need a small truck tyre (10-20kg), an ammo box full of sand or a concrete block (5-10kg), a jerry can (20kg) and a pine log approximately 2-3m long. You'll also need a football oval that you can run around to approximate 400m, or measure out 400m.
Remember, 'tabata' intervals consist of eight sets of 20 seconds max effort and 10 seconds of rest to make a 4-minute block.
In patrol order, complete in minimum time…
400m run
fire and movement (tabata 4 minutes)
400m tyre carry
600m run
burpees (tabata 4 minutes)
600m concrete block carry
400m run
leopard crawl (tabata 4 minutes)
400m jerrycan carry
600m run
burpees (tabata 4 minutes)
600m log carry
800m run
fire and movement (tabata 4 minutes)
800m tyre carry
Pairs workout – you'll need a training partner and some slightly heavier equipment including, a stretcher loaded with 40-60kg, large ammo box filled with sand, 2 jerry cans (20kg each).
Complete as many rounds as possible in 30 or 40 minutes, working with your partner for the carries…
stretcher carry 200m
20 pushups
ammo box carry 200m
30 situps (remove webbing if necessary)
jerry can carry 200m
40 squats
partner fireman's carry 100m each
Group workout – can be organised along similar lines by having more equipment or by including larger items such as heavily loaded stretchers or trailers to move.
So there you have some examples and guidelines for putting together battle-PT sessions that will tie together all of the basic fitness training done in the gym and on the road.
.
.

.

.
.

.

---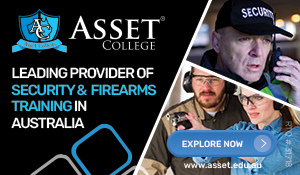 ...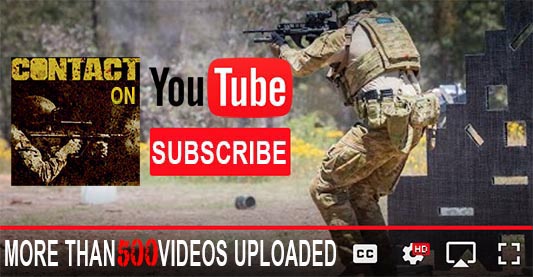 ---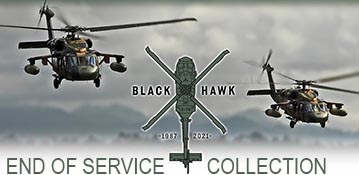 ...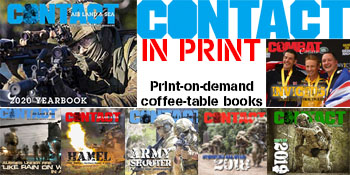 ---
.
.
21424 Total Views
2 Views Today