Chief of Army retreats on 'death icons' ban – sort of
Share the post "Chief of Army retreats on 'death icons' ban – sort of"

Australia's Chief of Army Lieutenant General Angus Campbell issued a statement last month effectively banning all symbols, emblems and iconography that portrayed death or unsavoury ideals.
He specifically targeted the pirate skull and crossbones, which he said represented maritime outlaws and murderers (The Queen's Royal Lancers in the British Army, the Royal Navy Submarine Corps and our own Royal Australian Navy submariners might beg to differ), the Phantom and Punisher, who are (fictional) vigilantes, Spartans, who he says represent extreme militarism, and the Grim Reaper, the bringer of death.
He said he was "adamant" that these symbols and iconography needed to be stamped out immediately.
Six days later, however, in the face of one of the biggest social-media and mainstream-media shitstorms in years, the Chief of Army back-peddled somewhat, advising commanders throughout the Army that they could now write to him outlining arguments why they should be allowed to retain a symbol or icon covered by the original minute.

The very first second I saw the CA's original edict, I nearly choked – with excitement.
This was such a blatantly anti-socialsoldier idea, it was absolutely bound to be a big news story.
And so it transpired.
In fact, the Chief's edict followed by a well-written rebuttal from an ex-infantry sergeant and a couple of other iterations of this story, have brought a combined 72,000-and-counting visitors to the CONTACT web site.
Let me put that another way – in less than one week, this became the number one most read and most commented-on story in the 14-year history of CONTACT.
And of course, it wasn't just a 'big issue' on CONTACT – just about every media outlet in the country – and several overseas – jumped on it too [we've even seen a new circulation pop up in April 2019].
The aforementioned ex-infantry sergeant was interviewed on several radio stations – passionate, well spoken and sympathetically heard.
I even saw calls of "Justin Huggett for PM".
I'd vote for him.
Like I said, I predicted this would be a big story. In fact, the proverbial Blind Freddy could have seen this one coming.
I'm not saying that as a boast however – I'm saying that more from the perspective of, "why didn't the Chief of Army and/or his PR minions see this coming?" (the rhetorical answer was well aired on dozens of Facebook posts 😉 ).
There's another angle to this too.
Angus Campbell has been in the Army for nearly 40 years. He has more than likely worn samples of the very iconography he has now banned – and if he hasn't worn it personally, he has certainly (directly and indirectly) commanded men who have worn it.
So why didn't he ban it back then – when he was a lieutenant, or a captain, or a major, or a half-colonel, or a full colonel, or a brigadier, or a major general?
And, if it is so upsetting to him now, why didn't he ban it sometime during his three-year tenure as Chief of Army?
Why did he wait until the day after he was announced as the new Chief of Defence Force?
(while his original minute was signature-dated 10 April, Defence insists the edict was officially issued on 17 April – the day after the CDF announcement).
Surely that wasn't coincidental.
There are two options here.
If it was coincidental, then this iconography ban is an purely Army-targeted hand-grenade before heading for the door.
If it wasn't coincidental, then Navy and RAAF can surely anticipate the same edict coming their way later this year – with, I predict, as much if not more pushback (and I can't wait for the resulting traffic boost on this here web site 😉 ).
Accusations of 'political correctness' and 'political correctness gone mad' have also been bandied about.
The Chief of Army and Defence PR spin doctors would have us believe that the iconography ban has nothing to do with 'political correctness'.
Obviously that's bullshit by the very definition of PC – "language, policies or measures designed to avoid offence".
To argue that this isn't political correctness is surely just more evidence that 'Canberra' is out of touch with 'the real world'. It's certainly a popular argument (usually much less politically correctly made on social media).
The 'coincidence' or otherwise of the timing of the iconography ban (as discussed above) also confounds the 'not PC' argument.
This was never a well-thought-out edict.
The aforementioned shitstorm was so totally predictable that no straight-thinking person would have issued a straight-out ban of something so ingrained in modern-military culture – no-one attuned to the pulse of his or her organisation could have possibly thought they 'could get away with this'.
But, it's not like it's the first ban that's been railed against and eventually watered down (often to the point of irrelevance).
Not so long ago, an Army-wide ban on the wearing of berets hit the fan – in the name of (sunsmart) health and safety – unless you were in special forces, because then you were obviously adult enough and/or 'hard enough' not to be affected by solar radiation.
And what's the status of that ban today? Well, without any official lifting of that ban that I'm aware of, I've seen plenty of soldiers getting around and plenty of official photos of soldiers getting around with a beret other than sandy, green or maroon on their apex.
I also recall a ban on tattoos been seen below shirt sleeves – another ban that's come and gone, just like its architect.
BTW, wasn't the exemption for sandy, green or maroon berets an early backdown on what was initially a total ban too?
In this latest case, if Lieutenant General Campbell was "adamant" about the need for this ban, he wouldn't have had to give ground just six days after issuing it.
Then there's the question of language. What the hell does "inculcation of an arrogant hubris" actually mean?
As an educated and arrogant magazine editor, who fancies himself skilled in the art of a complex and beautiful language, I actually knew what it meant when I read it.
Or at least I thought I did – until my 26-year-old well-read daughter asked me to explain it to her – out loud, in comprehensible words.
Then I had to look it up…
Inculcation is the process of instilling ideas, ideals, behaviours, knowledge, values etc into someone, usually by repetition.
Arrogant is unpleasantly proud and behaving as if you are more important than, or know more than, other people.
To the Greeks, hubris referred to extreme pride, especially pride and ambition so great that they offend the gods and thus brought about their own downfall.
As an educated magazine editor, who fancies himself skilled in the art of a complex and beautiful language I actually liked the original sentence construct – and may even use it in my own writing one day.
But, as a crafter of language, even I know that the use of such arrogant, highbrow linguistics is – ironically – so badly mis-targeted by the Chief of Army as to be completely counterproductive.
"Without explanation some will rile at this direction," Lieutenant General Campbell told his subordinate Australian commanders.
So why then was his own 'explanation' of his position written in language that the average 'offender' is so grossly unlikely to comprehend?
It just doesn't make sense to me.
And it doesn't make sense either that the PR minions didn't 'educate' their boss before he stepped on this oh-so-obvious landmine!
Before I go, let me have a crack at translating "inculcation of an arrogant hubris"
The Chief of Army would have us believe that wearing a t-shirt with a skull and crossbones will teach Australian soldiers to be unpleasantly proud and ambitious to point of offending the gods.
Ooh wait. I think I get it now.
CDF designate Lieutenant General Angus Campbell is worried that Aussie soldiers are so ambitious that they may be after his job!
No, hang on – maybe it's the offending the gods bit. Maybe this is a religious crusade after all!!!
Surely there's t-shirt designs to be had from all this.
This ban could actually be a boon for the t-shirt industry 😉
I don't know Lieutenant General Campbell and I've never met him.
But I do know he is highly respected by many of the people I respect in the Army.
I just think it's a damn shame his long and illustrious career has been so marred by an issue that shouldn't have been allowed to become such a huge issue, by people who are clearly too far removed from the realities of front-line soldiering.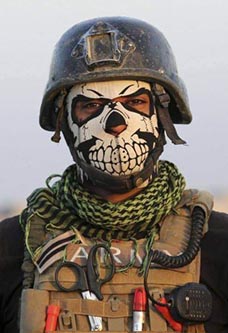 Seriously, though – last point: If the use of 'death iconography and symbology' is so rampant and widespread and abhorrent and in need of stamping out in the Australian Army, how come the majority of Australian media reporting on this crucial issue all ran the same supporting photo – of an Iraqi soldier!!! It couldn't be because samples of such offensive imagery, in the Australian context, are all-but-impossible to find, could it? Could it be that this really was a non issue – until Lieutenant General Campbell thrust it into mainstream attention?
.
.
.
.
.

.
.

.

---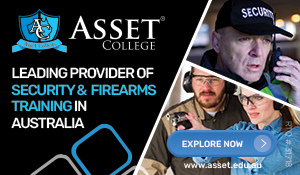 ...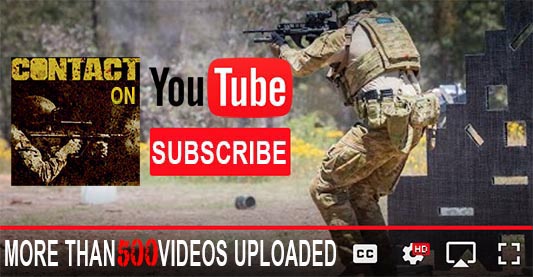 ---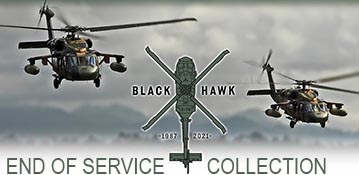 ...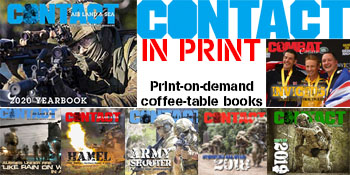 ---
.
.
Share the post "Chief of Army retreats on 'death icons' ban – sort of"
39738 Total Views
8 Views Today