After being diagnosed with terminal, inoperable cancer, Myron Allen had only one thing on his bucket list.
CAPTION: Myron Allen, with his family in front of an Australian Army CH-47 Chinook. Story and photo by Coporal Michael Rogers.
The former Army aviation soldier mentioned to a friend he would love a Chinook to land at his kids' school, but with his experience in aviation planning, he dismissed the idea as unachievable.
So when he heard the distinctive heavy rotor beat of a CH-47 earlier in the week around Brisbane, he thought nothing of it.
But, as he watched a CH-47 Chinook touch down at the Kurwongbah State School oval, he burst into tears.

He was told he was there for a school meeting, but as they wheeled him towards the oval, he realised what was happening
"You don't have a meeting at an oval, so I knew what was going on and cried the whole way down," Mr Allen said.
The Chinook was piloted by Commanding Officer 5th Aviation Regiment Lieutenant Colonel Andrew Lean, who Mr Allen remembered as a fresh-faced lieutenant from his time as a mission support ground crewman.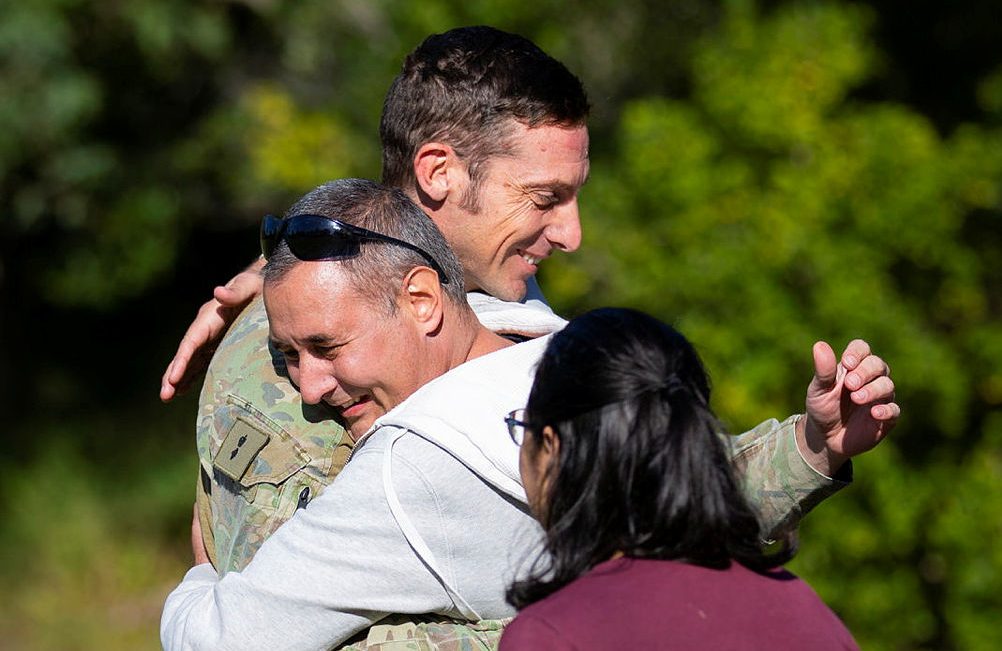 CAPTION: Myron Allen, greets Commanding Officer of 5th Aviation Regiment Lieutenant-Colonel Andrew Lean. Photo by Coporal Michael Rogers.
Kurwongbah Principal  Leanne Odorico said when she was contacted by Lieutenant Colonel Lean the school pulled out all stops to make it happen.
"We found out the Chinook was flying down this week, and even though we had other events happening, we knew we couldn't miss this opportunity," Ms Odorico said.
The school children were given an up-close look at the helicopter and spoke with the flight crew.
Mr Allen's sons, Elijah and Jonah, were given the privilege of sitting in the cockpit and trying on a flight helmet.
Born and raised in the UK, Mr Allen moved to Australia in 2005 after meeting his Australian wife, Linda, on holiday in England.
He joined the Army in 2009 and posted to 5th Aviation Regiment, later deploying to East Timor in 2011 as part of the Timor Leste Aviation Group.
While there, he won a competition to rename the aviation base in Dili 'Camp Creado', in honour of Timorese boys who helped Australian soldiers in World War 2.
An artist since childhood, in 2013 Mr Allen began a series of manga-style graphic novels to help soldiers come to terms with mental health issues.
After news of his novels got out, he was contacted by Army multimedia technicians and asked if he would consider changing jobs – posting to the 1st Intelligence Battalion after transferring.
"Collecting and manipulating data to affect the battlespace was fascinating. It was hard, stressful work, but it was one of the proudest things I have done in my life," Mr Allen said.
Mr Allen was medically discharged in 2018 because of stress response syndrome, which resulted in anxiety and depression.
"The Army took really good care of me after it was discovered to be work-related. They have done everything they can for me," Mr Allen said.
Mr Allen focused on being a full-time dad, which allowed Linda to concentrate on her career.
He also volunteered at his children's school and taught art therapy at retirement homes.
After experiencing stomach pain in April, and multiple consults, he was diagnosed with cancer.
"Sitting down with your kids on the bed telling them your dad's going to die soon is a very difficult conversation to have," he said.
"I gave my 11-year-old my dog tags and said, this is the only set, you have them, and I'll always be with you through them."
Mr Allen is now focused on fighting for as long as he can to be with his family, and wants his children to remember their time together.
"The Chinook visit enabled me to build a legacy memory for my children," he said.
"They will always remember the time dad arbitrarily requested a helicopter to land at their school for them to jump into, and Army said yes."
CAPTION: Myron Allen and his wife Linda wave farewell to an Australian Army CH-47 Chinook. Photo by Coporal Michael Rogers.
.

.
.

.

---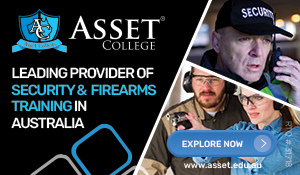 ...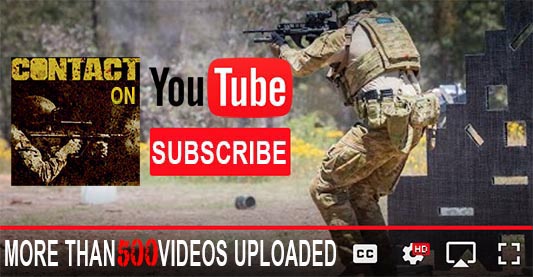 ---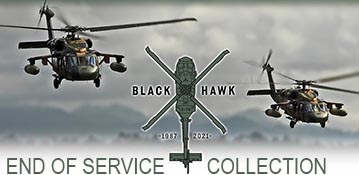 ...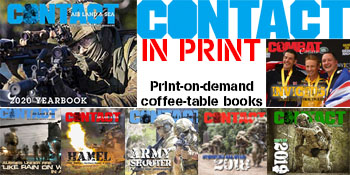 ---
.
.
4327 Total Views
6 Views Today