Welcome to the CONTACT Supporter's Store
...where your purchases directly help us to deliver the FREE magazine CONTACT Air Land & Sea, our fortnightly newsletter service and our daily news web site. Without your support (and that of our advertisers) we couldn't keep doing this. So, thank you – and please spend big :-)
Please also support our advertisers whenever you can – and when you do, make sure you tell them CONTACT sent you.

The CONTACT Yearbook is a 100-page hard-cover coffee-table book you'll love to browse, read and display – or give away as a gift.
It comprises 100 pages of the best stories and photos from that year – WITH NO ADVERTISING.
This is a true collectors' item – we will print no more than 250 copies of each edition – and every copy is individually numbered and customised with the new owner's name. You can even customise your own cover – FREE. Just send us a high-resolution photo (or more than one), with instructions re the headline you'd like, to editor@militarycontact.com


2019
2020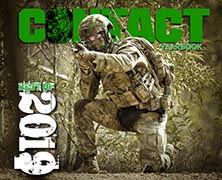 click cover to view contents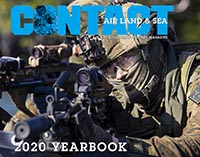 Contents available December
2015
2016
2017
2018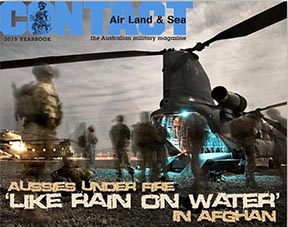 click cover to view contents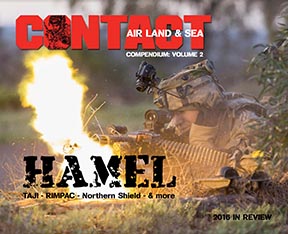 click cover to view contents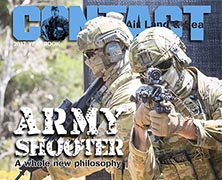 click cover to view contents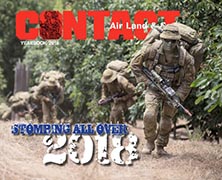 click cover to view contents

INVICTUS GAMES 2018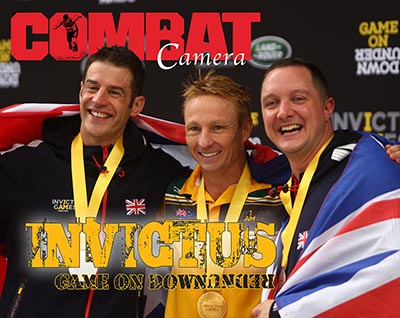 Contents similar to, but slightly different to our free IG18 magazine

This 40-page viewee-twoee with sturdy green PVC covers contains enough transparent plastic sleeves to load the CONTACT Weapons of the ADF Part 1 and Part 2 – and still have room for your other important field notes.

$25 with our ADF Weapons' Guide Part 1 and Part 2 preloaded
$20 with our ADF Weapons' Guide Part 1 preloaded, and
$15 unloaded.
Postage is $9 extra.

If you want to print your own copies of our ADF Weapons' Guides yourself, you can download Part 1 here (free) and Part 2 here – but please subscribe to our YouTube Channel as a show of thanks/support.

Buy in bulk for super savings
Prices include postage to Australian addresses only - Sorry, this offer is not available to customers outside Australia*
** PLEASE NOTE: CONTACT issue #12 is SOLD OUT
Remember to list which issues you want, during the checkout process, under 'Instructions to merchant'
or send your list to editor@militarycontact.com
* Not available to overseas clients because bulk orders would have to be mailed as 'freight' and, as such, the cost calculations for multiple magazines (which don't all weigh the same) are too complicated. Also, freight requires Australian Customs declaration forms to be filled out, adding to the complexity. Overseas customers are encouraged to order their back issues singly, below - though we do recognise that the extra charge to cover mail becomes prohibitive. We are sorry, but this is something we have no control over.

Buy your favourites one-by-one
All prices are in Australian dollars and include postage

Click on each cover to view that issue's contents

COMBAT Camera

You can still buy copies of the paper-based issue #1 here

---

CONTACT Air Land & Sea - 2013
CONTACT Issue 40
CONTACT Issue 39
CONTACT Issue 38
CONTACT Issue 37

---

2012
CONTACT Issue 36
CONTACT Issue 35
CONTACT Issue 34
CONTACT Issue 33

---

2011
Issue 32
Issue 31
Issue 30
Issue 29

---

2010

Issue 28
Issue 27
Issue 26
Issue 25

---

2009
Issue 24
Issue 23
Issue 22
Issue 21

Issue 20
Issue 19
Issue 18
Issue 17

In October 2008, to mark the 60th anniversary of the Royal Australian Infantry Corps, CONTACT produced this excellent and well-reviewed special infantry-only issue.

Initially, $1 from every sale of this magazine was set aside for donation to Legacy - with a cheque for $5000 handed over on 31 August 2012. With the cheque to Legacy now presented, the $1 donation for Legacy is no longer being collected, so the cover price (which includes mail) for this special magazine has been adjusted accordingly.


---

2007
Issue 16
Issue 15
Issue 14
Issue 13

Issue 12
Issue 11
Issue 10
Issue 9

Issue 8
Issue 7
Issue 6
Issue 5

---

2004

Issue 4
Issue 3
Issue 2
Issue 1