RSL Employment Program supports defence families
Share the post "RSL Employment Program supports defence families"
The right support at the right time can transform challenging situations and brighten futures.
As RSL evolves to meet the changing needs of our Defence family, a host of innovative services are being offered to improve the overall quality of life for veterans.
Kate Brauns and her family are an example of how RSL can step in at different times with practical assistance that effects positive change.
"Our family has had a lot of interaction with RSL," says Kate.
"My perception of RSL prior to all of this was that it was just for an older generation and not necessarily something we could access.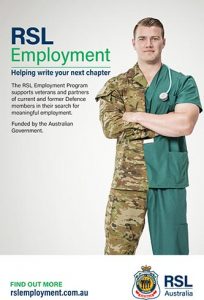 "But RSL is definitely for young veterans now.
"It's somewhere you can go to ask for assistance."
Kate and her husband Mick live in the Sunshine Coast hinterland and have two children.
Mick served in the Army for more than eight years, during which time he did one tour of East Timor and two tours of Iraq.
Kate met him two years after he discharged.
In 2015, several years after leaving Defence, Mick experienced an incident that triggered his post-traumatic stress disorder, which drastically affected both his home and work life.
"It came to a point where Mick wasn't able to go to work every day – and that was becoming a problem, because I was a stay-at-home mum," explains Kate.
DVA ADVOCATE WAS PATIENT AND UNDERSTANDING
They sought advice and were put in contact with an RSL advocate, who helped Mick get his Department of Veterans' Affairs claim processed.
Mick now receives incapacity payments, which is helping the Brauns move forward with their lives.
"Our RSL advocate was basically a whiz.
"He put together all of Mick's DVA claims and even provided us with food and petrol vouchers when we had no income.
"He was very patient and understanding and he's become a really good friend," says Kate.
EMPLOYMENT PROGRAM GIVES KATE ENCOURAGEMENT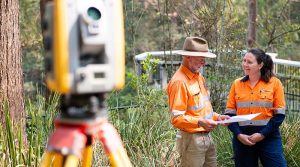 Kate was then referred to the RSL Employment Program, where staff reviewed her resume, coached her through interview techniques and encouraged her to seek work experience.
She soon found a work placement with the Downes Group, a surveying, town planning and land development consultancy practice.
"It's been really good working with the Downes Group while I'm still studying.
"They've given me the opportunity to get my hands on the equipment and the instruments and really put into practice what I've been learning."
They have also been very accepting of her home situation – young children and Mick's limitations – something Kate is extremely grateful for.
Downes Group Operations Director Tony Vella says the business operates with family values and is proud to support the community.
"Being able to help RSL provide support to families who have served is extremely important to our company," says Tony.
"Kate has fitted in very well with the team and is popular with everyone she's worked with.
"She is a very, very bright person and certainly flexible."
REACH OUT FOR HELP
Kate's view of RSL has radically changed in recent years.
She now strongly encourages other members of the Defence community to approach the organisation if they need assistance or help with other issues.
Learn more about the RSL Employment Program and get in touch at rslemployment.com.au
Share the post "RSL Employment Program supports defence families"
1525 Total Views
1 Views Today