SUBSCRIBE FREE to CONTACT magazine
.
Brand Net Group fans can subscribe to CONTACT Air Land & Sea magazine free (below) via this special landing page.
AND, if you shop at Military Shop online via this link, MilShop will give your new favourite military magazine a small commission, to help us keep doing what we do.
Also, if you know someone who you think would also love a free subscription to CONTACT, please share this page with them via one of the social-share buttons above – especially the email button.
SUBSCRIBE FREE: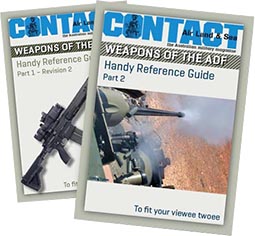 Subscribing to CONTACT is completely free and totally simple – and safe. All we need is your email address, nothing more.
As soon as you confirm your subscription (via double-opt-in subscription email), you'll also get access to our free viewee-twoee-sized Weapons of the ADF.
After that, we promise to send you our fortnightly newsletter and quarterly magazine – and no spam.
You can catch up on all our previous e-magazines in our archives, here.
.
.
.
.
.
.
6419 Total Views
4 Views Today