Warrnambool Pilot Experience Flights
During a staff continuation training flight in a Diamond DA40 NG, Captain (AUX) Matt Doyle took a photograph of the Warrnambool coastline which perhaps sums up the many hats he wears – if the waves and aircraft wing were considered as a sentence, it would read "I Love Flying".
CAPTION: Matt Doyle, an Air Ambulance pilot, discusses the AgustaWestland AW139 helicopter with an Air Force Cadet from 413 Squadron, Warrnambool. Photo by PLTOFF(AAFC) Jane McDonald.
RIGHT: Photo by CAPT (AUX) Matt Doyle.
As a Defence Auxiliary in the AAFC, Matt is a Section Commander and instructor with Point Cook Flight of the Elementary Flying Training School (EFTS), and also Executive Officer of No 418 Squadron, AAFC.
He is also an ADF Recruiting Officer, posted to Defence Force Recruiting in Melbourne, and an Air Ambulance pilot operating from Warrnambool airfield.

Australian Air Force Cadets from No 413 Squadron based out of Tel el Eisa Barracks, Warrnambool, recently participated in Pilot Experience (PEX) flights from Warrnambool airfield (YWBL).
All 4 Wing Cadets are given an introductory flight during their Combined Recruit Training activity.
Generally, Australian Air Force Cadets are invited to have at least one Pilot Experience (PEX) flight each year under the supervision of a qualified flying instructor and at no cost to the cadet.
The Cadets flew in the new Diamond DA40 NG training aircraft, operated by the EFTS at RAAF Point Cook, over the picturesque Warrnambool coastline.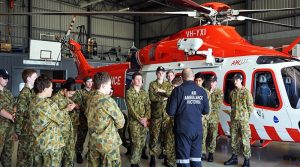 During this activity, Captain Doyle arranged a personalised tour of the Helicopter Emergency Medical Service (HEMS) facility based at Warrnambool airfield to help the Cadets learn about potential aviation-career pathways.
Commanding Officer of No 413 Squadron Pilot Officer (AAFC) Jane McDonald said, "it was a perfect opportunity for the cadets and staff of 413 SQN to experience another side of aviation via this emergency services facility".
They were introduced to the AgustaWestland AW139 twin-engine helicopter, which provides a broad response capability to south-western Victoria.
Captain (AUX) Doyle said, "The mission of EFTS is to inspire cadets towards careers in the Defence and civil aviation sectors. During the visit we were able to discuss the importance of academic achievement for cadets to realise their career aspirations".
"We discussed career pathways for ADF aviation roles, as well as civil aviation roles (including pilot, aircrew and engineer)".
PLTOFF(AAFC) Jane McDonald said, "Giving the cadets this one-on-one aviation experience with RAAF, AAFC and Ambulance Victoria pilots is absolutely priceless and will only inspire them to think more broadly about the aviation career opportunities available to them".
Prospective recruits will be introduced to 413 Squadron at the squadron Recruitment Night on 5 March.
Anyone in the Warrnambool region interested in further details may email Pilot Officer (AAFC) Jane McDonald at co.413sqn@airforcecadets.gov.au
.
Left, LCDT Nathan Sagnol, and right, CDT Aaron Cahill, with their flying instructor PLTOFF(AAFC) Chris Hulley after their respective PEX flights in a Diamond DA40 NG. Photos by PLTOFF(AAFC) Jane McDonald.
.
.
.
.
.

.
.

.

---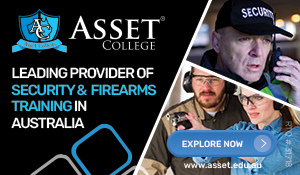 ...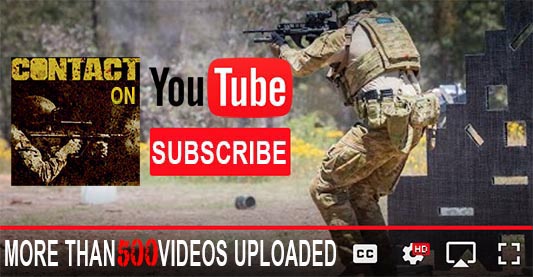 ---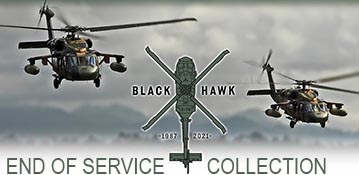 ...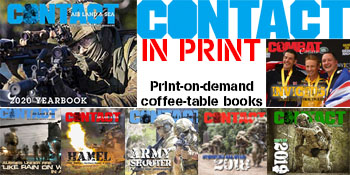 ---
.
.
6279 Total Views
4 Views Today