You will no longer wear that uniform!
Well, just short of 20 years, and even though I knew it was coming it is still a tough pill to swallow.
Finding out you are no longer in the services is tough, especially if it is all you have known for your entire adult life. I guess wearing any uniform for so long makes it hard to take it off.
The first thought to enter my mind was, "Who am I if I am not a sailor?"
I think back to the teenage version of myself – cocky, tough, boisterous – and instantly compare him to the man I am today. I know I am not the boy I was, but I do question whether I have grown, or lost part of my own identity.
For years I have known my place, my rank, my position. I would enter a job with a written statement of exactly what was required of me and who I was in charge of, when I deployed, my meals were made for me, I was told when to eat, and at times when to sleep. There were parts of my job that made perfect sense and parts that made no sense at all. I have known for nearly 20 years exactly what to expect, while almost simultaneously having no idea what was around the corner.
I have been so well trained in some environments and had no training in others – and been expected to perform both just as well as each other.
I specifically remember being on a high-powered inflatable boat transiting from one ship to another when we developed a major cooling leak. All of a sudden, a wild storm broke out. The rain was so heavy we couldn't see either ship and knew land was simply too far away if we got lost. We made a quick repair to the cooling system and, knowing there was a lot of salt water in the fresh water system, we decided to make a go for one of the ships. Eventually, by luck, we found it, came along side and made repairs.
The following day I wasn't allowed to use the dishwasher because I hadn't done an induction.
This was life in the services. At sea I was not only allowed, but it was part of my job to run into a fuel-fed fire in an engine room if it developed – yet one time in an office a rat died in the ceiling and no one was allowed to clean it because of the toxic risk it presented. Five days later, with the rat leaking onto the desks below, we were still not allowed near it – for our safety.
I'll miss dearly not just the people I know personally, but I will also miss the characters that were on every single deployment. I'll miss the person that was never around when there was work to be done. I miss the sailor that just seemed to sleep anywhere, everywhere, almost as if they could sleep 20 hours a day. I'll miss the sailor with the filthy mind and all the dirty jokes (not always a bloke). I'll miss the guy that always fell in love – as in head-over-heels in love – with, in the early days it might have been a girl back home or someone he met in a port visit to Manilla. As times changed, he fell in love with the night cook, or one of the girls on his watch. I'll miss the guy that seemed to only live on cigarettes, Samboy chips and soft-drink. No one knew how he was alive, but he was. I'll miss the guy who somehow got injured all the time. He always had stiches or was in a cast. I'll miss the charismatic guy that always smiled, no matter how tough things got. Most of all I'll miss how we always had each other's back, how within days of knowing each other we had a fierce loyalty. We were shipmates, we taught each other, supported each other, and sometimes fought each other – but we still had each other's backs.
I know I am not the same boy I was all those years ago, getting off the bus at recruit school. I don't think I am the man that that boy would have imagined me becoming. Parts of me have grown, parts of me are stronger than I could have ever imagined. Parts of me are broken or lost forever, and parts of me will never be as strong as they once were.
Ultimately though, I have to ask myself when I take that uniform off, "Would I do it all again if I had my time over?" And when I look deep into everything I have experienced, I would have to say yes.
I may have had rough days, been so tired I couldn't walk. I may have had months away from home where all I wanted was to be back with my friends and family. And I may have lost some of my capacity to be a man, a partner, or even a father.
Ultimately, at the end of the day, I had a choice.
The kid I met that had been shot in the stomach in Bougainville, he never had a choice. I don't even remember his name. The kids I met in Suai Bay who had seen their family members massacred – they never had a choice. I don't even remember their names. The girl I met in the Arafura Sea who had fled her home during a war and travelled to the other side of the world in the most terrifying conditions –she never had a choice. I can't even remember her name. The countless people who I saw or met that were happy to have me there just because of what it represented in their lives will always stay with me.
I may not be the man I wanted to be when I joined but, thanks to this uniform, I have been proud, I have been part of something amazing and know I have given something to people in parts of the world I didn't even know existed.
So, now that there are people in the navy who were born after I joined (not the greatest milestone) it is time for me to pass the torch.
When I look to the next generation of sailors, I can see a pretty great representation of society. The sailors who are coming through now are amazing, innovative, charismatic and forward thinking. Yet they are still tough, professional and ambitious – even though I still see the kid that is falling in love as soon as we set sail – there is still that sailor who lives on chips and smokes.
But the one thing that is still obvious is that they still have each other's backs.
So now, it's time to go and find my way in a world that I don't know. A world without rank, or large masses of people who do things just because they were told to.
At least I am going into this world with amazing memories, unbelievable experiences. But most importantly, with friends that I know will be by my side until our days are done.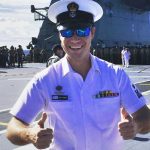 .
By Dave Finney, a recently retired Royal Australian Navy Petty Officer.
.
.
.
.
24754 Total Views
2 Views Today