AAFC granted Freedom of Entry to Geraldton

Recognising more than seven decades of youth development service, the rare and ancient Freedom of Entry privilege was granted by the City of Greater Geraldton to No 711 Squadron of the Australian Air Force Cadets at a ceremony on Sunday 2 October 2016.
MAIN PHOTO: 718 Ceremonial Flight
The Freedom of Entry privilege acknowledges the Air Force Cadets ongoing support for the City of Greater Geraldton, including the annual ANZAC day parade and other ceremonial events, as well as its considerable service to young people.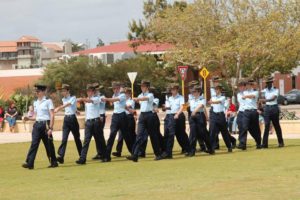 711 Squadron were first awarded Freedom of Entry to the City of Greater Geraldton in 2013 on the grounds of outstanding support to youth development within the City of Greater Geraldton.
The formal request to enter the city was made at Edith Cowan Square on 2 Oct 2016 by Flight Lieutenant (AAFC) David Power, Commanding Officer of No. 711 Squadron.

An impressive 40 cadets and 7 staff members marched in the parade, including a detachment from 718FLT drum corps. As part of the ceremony, cadets and staff were stopped on their march by Police Sergeant Peter Gerada, who in keeping with tradition, requested they show their authority to enter the city. Following the challenge, parade members formally saluted the citizens of Greater Geraldton.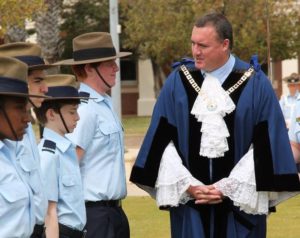 A RAAF Pearce based 79SQN Hawk Aircraft, conducted two flyovers at over 750km/h and only 500ft. One during the ceremony and another over the march.
"The Australian Air Force Cadets is one of the most dynamic, effective and satisfying youth programs available and is open to young people aged 13-20 years," said Flight Lieutenant David Power.
"Air Force Cadets get to do the things that most other young people only watch on television, including learning to fly aircraft solo while still in their mid-teens, using civilian and military rifles under supervision, going bush wearing camouflage uniform, operating military radios, using field signals, learning cooking and survival skills; as well as enjoying interstate and international travel.  They also study aeronautics, navigation, meteorology and radio communications, first aid and music."
Involvement in the Air Force Cadets can generate credits for the Year 12 Certificate of Education.  Cadets may also undertake three weeks per year full-time tertiary-level training in leadership, decision-making, initiative, self-discipline, time-management, clear thinking, public speaking, management and administration that will qualify them for a TAFE Certificate III in Business Management.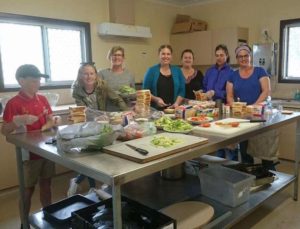 Flight Lieutenant David Power said a high proportion of current Australian Air Force personnel developed their interest in aviation as Cadets, and many public figures ignited their involvement in community affairs through service in the Air Force Cadets, which continues to be fully supported by the Royal Australian Air Force.
The origin of the privilege of Freedom of Entry to a city, and the colourful ceremony attached to the granting of entry by a city, have much deeper historical significance than the modern ceremony may imply. It has its origins in Ancient Rome, where it was an offence for legions to enter the city without permission, as the senate was fearful of coups against them.
Early in the 11th century, the walled cities of Europe trained soldiers for defensive measures and city protection. During the 12th century, when wandering bands of armed men during and after the Crusades were often undisciplined, Freedom of the City was rigorously controlled by the city leaders as a measure of precaution rather than an act of grace.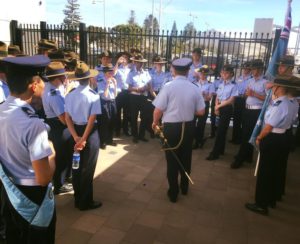 In granting Freedom of Entry, a city was stating that the unit was trusted so much by the people of that city, that they had the right to enter with 'swords drawn, drums beating, colours flying and band playing'.
In modern times the granting of Freedom of Entry bestows no legal right or privilege on the recipient body, but it is accepted that the conferment is the most honourable distinction a city may bestow.
No. 711 Squadron, Australian Air Force Cadets is honoured to be granted Freedom of Entry to the City of Greater Geraldton.
711 Squadron parades Monday nights during the school term, prospective cadets can call Flight Lieutenant Power or visit the Army Reserve Depot on Lester Avenue on a Monday night..
.
.
.

.
.
.

.
.

.

---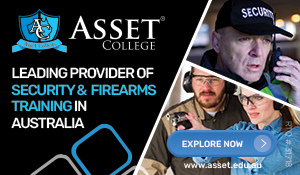 ...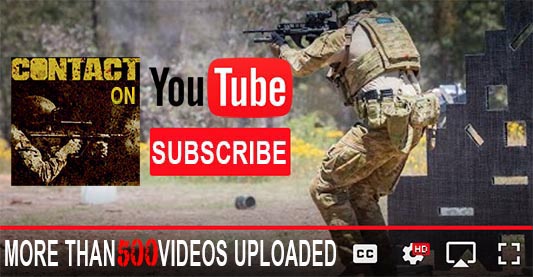 ---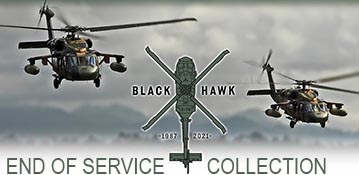 ...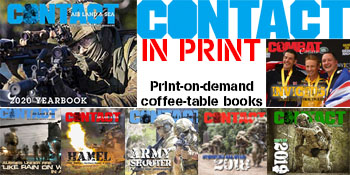 ---
.
.
9417 Total Views
2 Views Today