Pacific Airshow Huntington Beach 2023

Rain and unseasonably cool temperatures couldn't dampen the enthusiasm of the massive Pacific Airshow crowds lining Huntington Beach.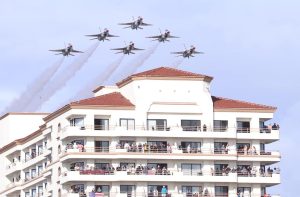 United States Air Force Thunderbirds in action at Pacific Airshow Huntington Beach, California. All photos by CONTACT stringer Christabel Migliorini. Follow Chrissie on Instagram.
They were treated to chest-pounding performances from the largest collection of civilian and military aircraft in Pacific Airshow's seven-year history.
An expanded event activation zone saw a 33-percent increase in ticketed guests in comparison to 2022.
Initial estimates are that more than 700,000 people watched the show in Huntington Beach, with thousands more watching from driveways, balconies and rooftops in surrounding cities.

The clouds parted on Sunday allowing performers to do their high altitude shows, which thrilled fans in attendance.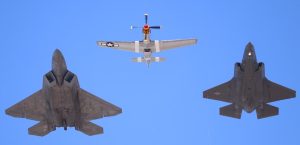 Executive director of Pacific Airshow Kevin Elliott said Pacific Airshow at Huntington Beach, California, continued to set the bar for the industry in terms of the depth of talent and quality of the experience for millions of aviation enthusiasts.
"We are so thankful to the City of Huntington Beach, the fans who supported us, the aviators, the service members and their families who make this show so spectacular," Mr Elliott said.
CONTACT stringer Christabel Migliorini attended this years Pacific Airshow at Huntington Beach and sent us all the photos attached to this story. Our hugest "Thank You" to Chrissie for her super awesome photos – and especially for sharing them with us.
Chrissie also sent us photos from the inaugural Pacific Airshow Gold Coast, which, if that event grows to resemble its States'-side big brother, will be a huge boost to the Aussie aviation scene in years to come.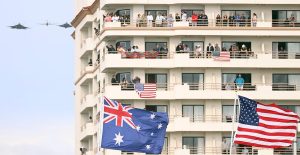 This year's three-day Huntington Beach spectacle featured the US Air Force Thunderbirds, Canadian Forces Snowbirds, F-22 Raptor Demonstration Team, F-35A Demo, F/A-18 Super Hornet Demo, US Navy F-35C Demo, US Air Force KC-135, US Air Force Heritage Flight, US Army Helo Demo, US Navy Growler Demo, US Air Force F-15s from the Bayou Militia, US Navy Parachute Team Leap Frogs, and the US Army Golden Knights.
Civilian performers included Australia's Matt Hall and Emma McDonald in their MXS-R aircraft, and a host of other high-quality performers
Mayor of Huntington Beach Tony Strickland said Pacific Airshow was a huge event for his city.
"Since its inception seven years ago, this patriotic, family friendly event has delivered a cumulative benefit to Orange County approaching one billion dollars in economic impact, all without one single arrest on our beaches," Mayor Strickland said.
"The tangible benefits of the airshow are immense, it unites our community, supports local businesses, it showcases our city to visitors near and far – all while generating more patriotism than Independence Day.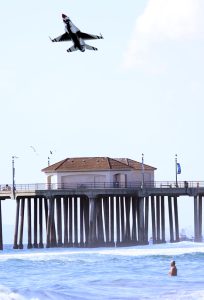 "I commend Kevin Elliott and his team – their professionalism, integrity and commitment to Huntington Beach are second to none."
Pacific Airshow is now the largest airshow on two continents with its expansion to Gold Coast Australia.
Australia's inaugural year drew more than 300,000 people.
As the only multi-national airshow in the world, Pacific Airshow is now looking at exporting its brand in Europe, Asia Pacific and the Middle East.
"We are on a mission to inspire people and nations to find common ground and inspiration through aviation," Mr Elliott said.
"Our vision is to one day create an international airshow schedule and experience that becomes like that of Formula 1."

.

.
.

.

---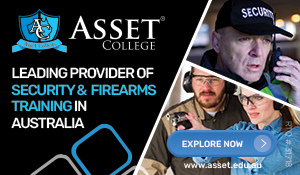 ...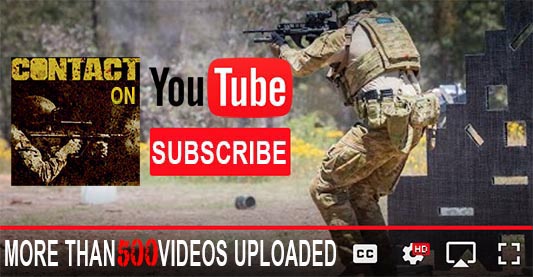 ---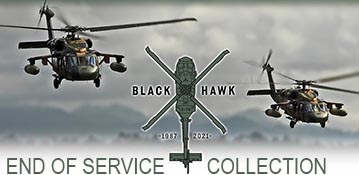 ...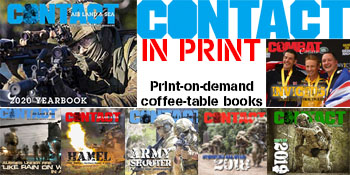 ---
.
.
1496 Total Views
4 Views Today