HMAS Vampire to 'sail' again on Wednesday – send us your photos
Share the post "HMAS Vampire to 'sail' again on Wednesday – send us your photos"

Daring-class destroyer HMAS Vampire will be moved from the the Australian National Maritime Museum at Darling Harbour to Garden Island on 18 January 2023.
CAPTION: HMAS Vampire, Australia's largest museum vessel, will be moved for maintenance in January 2023. Photo courtesy Australian National Maritime Museum.
The museum-piece ship will undergo essential maintenance at the Royal Australian Navy's eastern base.
The movement is scheduled to commence at 8am on Wednesday 18 January.
Vampire will be 'towed in state', attended by three tugboats and a pilot vessel and should make for spectacular and poignant photo opportunities at many locations across Sydney Harbour – especially under the bridge.

CONTACT would love for fans to send us their photos (to editor@militarycontact.com), which we'll attach to this story, below [but, in answer to an emailed question, no payment is offered for photos – just the thrill of the chase and the buzz of the by-line – and a hyperlink, if you want one].
According to the Australian National Maritime Museum, Vampire is scheduled to be back on display and open to the public on 17 February (assuming (but not confirmed) the return move from Garden Island to Darling Harbour to happen a day or two before that).
Approximate timings (on 18 January):
UPDATE: Timings delayed by 90 minutes
0800 departure and turning in Cockle Bay
0840 tow toward Barrangaroo
0850 passage under Harbour Bridge
0900 past Opera House
1000 reach Garden Island Naval Base
SUBMITTED PHOTOS
.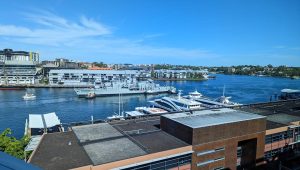 The Bat leaving Darling Harbour this morning,
taken by my fiancee Laura from her office in Barangaroo.
Cheers, Finn.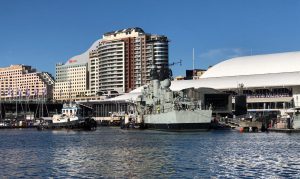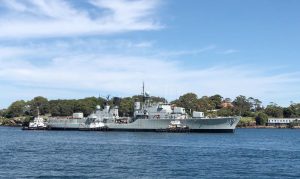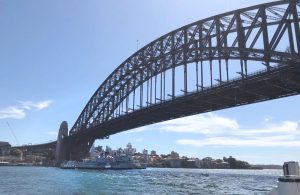 Damien Ewin – premierdefence.com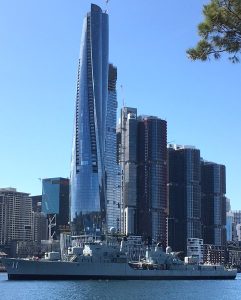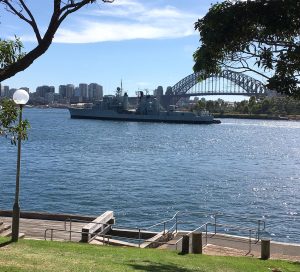 Margaret Bond at Illoura Reserve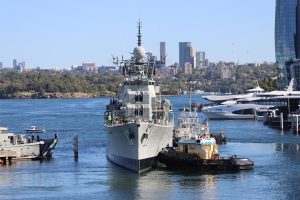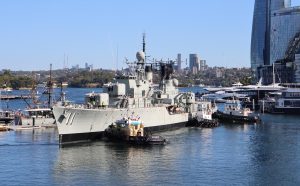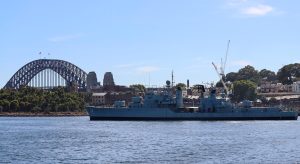 Watermelon Photography – on Instagram Watermelon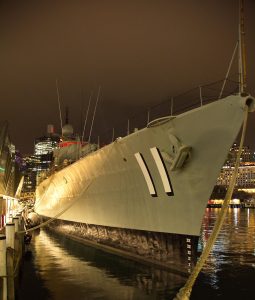 Saw your article this morning on the Bat getting her new paint job.
Here's a shot I took in Sydney for her 60th Birthday Reunion.
I was a Kellick ETP on her when she decommissioned.
Cheers
Steve "Scotty" Glasgow
See a separate page of old photos from friends of Vampire, here.
Feel free to add this collection too.
.
Vampire served in the Royal Australian Navy from 1959 to 1986.
Her arsenal included three twin turrets housing 6 x 4.5-inch guns (still in place); two single-gun and two twin-gun Bofors anti-aircraft guns (still in place); five anti-ship torpedo launchers (removed in 1970); and, anti-submarine mortar tubes (removed in 1980).
Despite her firepower, Vampire had a peaceful career, even while escorting troops to Vietnam in the 1960s.
In 1977, Vampire had a brush with royalty as the RAN escort for HMY Britannia during the Queen's Silver Jubilee tour of Australia.
Vampire was the third of three Australian-built Daring-class destroyers in the Royal Australian Navy, and one of the first all-welded ships built in Australia, at Cockatoo Island.
She was commissioned on 23 June 1959 and decommissioned on 13 August 1986, after sailing almost 1.5million kilometres in Australia's service.
.

.
.

.

---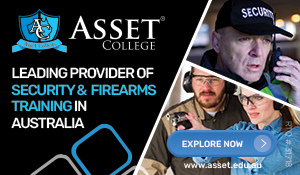 ...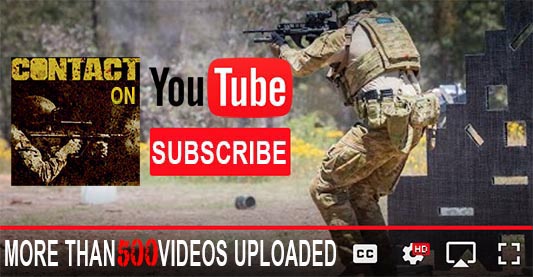 ---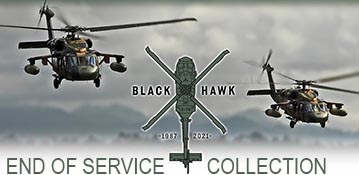 ...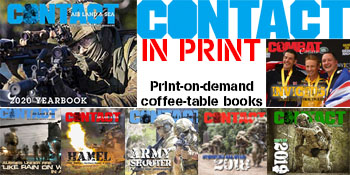 ---
.
.
Share the post "HMAS Vampire to 'sail' again on Wednesday – send us your photos"
23686 Total Views
6 Views Today