Automatic flood cover and no excess for Veterans and ADF
Share the post "Automatic flood cover and no excess for Veterans and ADF"
Your first thought after a flooding event shouldn't be whether you're covered – it should be what you need to recover.
With Defence Service Homes (DSH) Insurance's comprehensive cover, eligible Australian Defence Force and veteran community get attractive premiums, including a range of benefits such as automatic flood cover, no excess for insured events, accidental damage (up to $5000) and fusion-of-motors cover at no additional charge.
No excess on claims* is a unique feature that helps policyholders getting their home back to a pre-damage condition without having to worry about paying an excess – helping ease the pressure on many household budgets.
Through eligibility expansion, now more than 300,000 additional current and former ADF members, including Reservists and Peacekeepers, regardless of their length of service, can access all-inclusive home insurance. This is particularly beneficial for those currently residing or in areas that have a high risk of cyclones, bushfires and other natural disasters at a very vulnerable time.
Take the example of RAAF Sergeant Warren Willett who was at home with his family  in October last year when a freak hailstorm hit their Brisbane suburb.
While the hailstorm itself and the task of rebuilding were stressful events, Sergeant Willett said making a claim with DSH Insurance was easy and their response quick and effective.
"After I found the phone number to call DSH Insurance, the lady on the other end took details, and said, "We'll get back to you", and literally within an hour the assessor they assigned had called and explained everything.
"It was that fast and unreal. I could not have asked for a better experience," Sergeant Willett said.
"I'd recommend DSH Insurance for the fact you feel like you're a little bit special because it's only offered to ADF members or veterans."
Get quick and easy home insurance quotes through DSH Insurance's online quoting tool: online.dsh.gov.au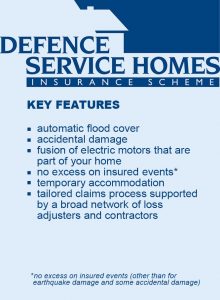 Why DSH Insurance?
Part of the strong and resilient Defence community
Seamless claims process
Government-owned with over 100 years' of insurance experience
Covers events such as fire, storm including automatic flood cover
Flexible payment options at no extra cost
Proudly locally based
90% Policyholder satisfaction
Access to Department of Veteran Affairs support services such as Open Arms
Check out the DSH Insurance range of cover options by visiting dsh.gov.au/insurance or speak to their friendly customer service staff on 1300 552 662.
Share the post "Automatic flood cover and no excess for Veterans and ADF"
3176 Total Views
2 Views Today