ANZAC Day 2020 – a very special event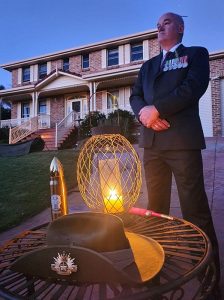 ANZAC Day 2020 was a very special day – celebrated widely in CONTACT's suburb and, we are confident, right around Australia.
CAPTIONS: Rosie Hartigan (above) and Brian Hartigan (right) during the ANZAC Day 2020 neighbourhood dawn service. Photos by Ashling Hartigan.
Few of our neighbours normally get up for a traditional Dawn Service, but they were out in force this morning – young and old – and recently recruited (welcome to the fraternity Seaman Jack Nelson).
The sound system in our part of the neighbourhood was a tad dodgy, cutting in and out as the service from Canberra was broadcast across the nation – but that didn't matter at all – as ours dropped out, we could still hear the bugles reverberating through the suburb, competing with the kookaburras and crows.
The 5.50am start was much better too, I thought. I've long said 5.30 is too early, with services finished before the dawn actually breaks.
So special was this ANZAC Day – I think we'll campaign to do it this way next year too 😉
So special was this ANZAC Day, my neighbours deserved (and got) a round of applause.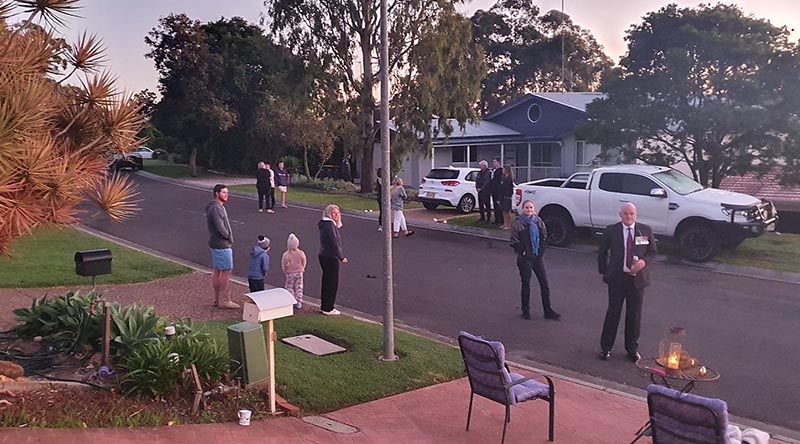 .
Friends of CONTACT: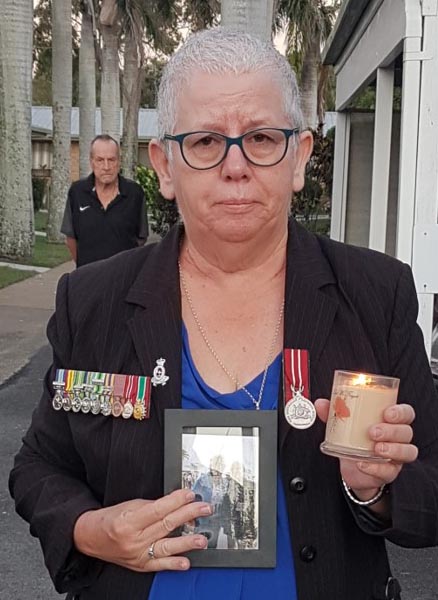 G'day Brian, How are you mate? I wish to salute you, after you participated in "Exercise Stone Pillow."  I was humbled to have eight of my neighbours join me to pay our respects to the Fallen. Being the first ANZAC Day since Buster left us, it was comforting to have them observe this truly Aussie day in the "Light up the Dawn" tribute to our Veteran community. I can see it being a permanent fixture in the Australian calendar. Until next time, take care and sending gentle hugs to you and your loved ones.
Cheers, Colleen Crab.
.
Other submissions welcome – editor@militarycontact.com.
.
.
.
.
.
.
.
.
..
.
.
.
2900 Total Views
1 Views Today