REMEMBRANCE DAY 2018: Part 2:  6 Wing, AAFC

For Remembrance Day this year, Air Force Cadets from No 6 Wing again honoured the sacrifice of the fallen by participating in Remembrance Day activities throughout South Australia.
CAPTION: No 612 Squadron Cadets at the Vansittart Gardens Cross of Sacrifice in Mount Gambier on Remembrance Day. Rear rank, left to right: CSGT Breydon Verryt-Reid; CDT Angus Aitken; Cadet Corporals Brian Telford and Megan Laube; CDT Daisy Yates; FLGOFF(AAFC) Geoffrey Yates. Front rank: Cadets Logan Burr and Tobias Flett. Image supplied by 612 Squadron.
This was a special series of commemorations, marking the centenary of the signing of the Armistice in 1918 which brought about the end of hostilities in World War 1 – on the 11th hour of the 11th day of the 11th month.
In the lead up to Remembrance Day, two Air Force Cadets gave the 'Service Voices' program some insight into why they consider it important to participate in these commemorative events.
Cadet Sergeant Tegan Thomas of No 622 (Rural City of Murray Bridge) Squadron has been on duty so far this year for Australia Day, the Macclesfield RSL Anzac Twilight Service and the Anzac Day service at Mount Pleasant.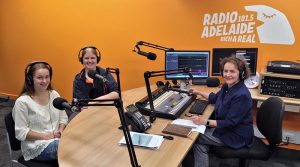 In her interview, she said that on Remembrance Day she planned to honour the service of her great-grandfather, Bomber Command veteran Flight Lieutenant Cyril Kroemer DFC, who was captain of a Lancaster with No 625 Squadron RAF and was awarded the Distinguished Flying Cross for bravery.
Listen to the interview here.
Over the past two years, Cadet Corporal Erika Gardner from No 602 Squadron (Adelaide Hills) has previously participated in a Remembrance Day activity at Littlehampton, Anzac Day activities in Echunga and Canberra, and activities in support of Legacy. Recently, she was Honour Guard Commander for the RAAF Association (SA) Battle of Britain Memorial Service in Adelaide.
CCPL Gardner said she was planning to honour the service of her grandfather Kevin Gardner of the Royal Australian Navy Reserve, who was mobilised for active duty in 1944-46 with HMAS Gawler in the Admiralty Islands and then on HMAS Warramunga.
Listen to the interview here.
On Friday 9 November, 602 Squadron from Woodside Barracks joined with soldiers from 16 Air Land Defence Regiment to support a commemorative service at Oakbank Area School.
Modbury High School's annual commemoration was again supported by a Catafalque Party from 604 Squadron (Hampstead Barracks).
See story here.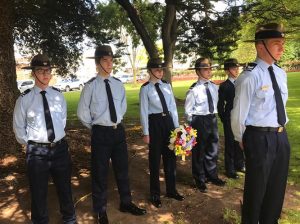 Cadets from 608 (Town of Gawler) Squadron mounted a Catafalque Party at Nuriootpa High School in the Barossa Valley. And on Friday evening, Cadets from 609 Squadron (Woodside Barracks) supported the Plympton/Glenelg RSL Remembrance Day Dinner.
On Remembrance Day, 6 Wing Cadets from a variety of metropolitan squadrons represented the AAFC in a tri-Service ceremony at the Centennial Park Cross of Remembrance.
To the north of the city, 613 Squadron (RAAF Edinburgh) provided a guard of honour for the 100 Year Armistice Service at the Salisbury War Memorial, and 608 (Town of Gawler) Squadron provided a Catafalque Party and Honour Guard at Pioneer Park in Gawler.
In the Adelaide Hills, 602 Squadron supported the Mt Barker RSL Armistice Day Memorial Service, and set up an information stand at the 'Centenary of Armistice Street Function' hosted by the Mount Barker Council and RSL Mt Barker Sub Branch.
To the south of Adelaide, Cadets from 617 Squadron (Unley High School) provided a Catafalque Party to support the Unley RSL service in the Unley Soldiers' Memorial Garden, and cadets from 609 Squadron mounted an Honour Guard for a community event at Heron Way Reserve in Hallett Cove.
Cadets from 605 ('City of Onkaparinga') Squadron took part in a service at the District War Memorial in Yankalilla, while others supported the Morphett Vale RSL Remembrance Day Service at the Eternal Flame in Morphett Vale.
Some cadets from 619 ('City of Onkaparinga') Squadron supported the Remembrance Day Service run by the Port Noarlunga/Christies Beach RSL on the esplanade at Port Noarlunga. Others provided catafalque party and flag-raising support to the McLaren Vale RSL Remembrance Day service at the McLaren Vale War Memorial Gardens.
Meanwhile, in Mount Gambier 612 Squadron joined the wreath laying service at the Vansittart Gardens Memorial. The wreath layers were Cadet Sergeant Breydon Verryt-Reid and Cadet Corporal Brian Telford.
6 Wing Public Affairs Officer Flying Officer (AAFC) Paul Rosenzweig said, "On Remembrance Day, our Air Force Cadets understand the importance of honouring the sacrifices our forebears made during war. They also enjoy these opportunities to spend time with our veterans and reflect on their service, their cadet service helping to bridge the generations".
Lest we Forget
.
.
.
.
.

.

---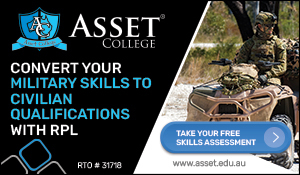 ...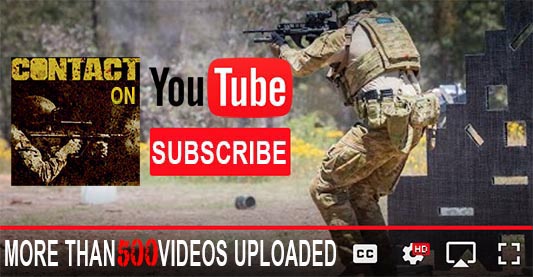 ---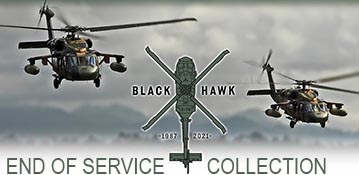 ...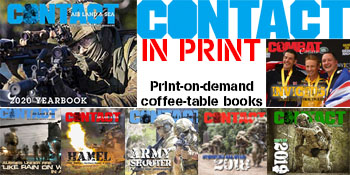 ---
.
.
2572 Total Views
1 Views Today