6 Wing AAFC helps mark Malayan Emergency 70th
Share the post "6 Wing AAFC helps mark Malayan Emergency 70th"

On Saturday 16 June the SA/NT Branch of the National Malaya-Borneo Veterans Association of Australia formally honoured the sacrifice of 45 Australians during and immediately following the 12-year conflict known as the Malayan Emergency.
CAPTION: Australian Air Force Cadets CCPL Levi Schubert and CCPL Simon Russell from 604 Squadron Rest on Arms Reversed under the flags of Malaysia and Sarawak. Photo by Flying Officer (AAFC) Paul Rosenzweig
They held a special Service of Commemoration in the West Torrens War Memorial Gardens in Adelaide.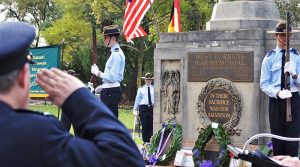 This ceremony marked the exact day 70 years ago when three European plantation managers in Perak state on the Malay Peninsula were executed by members of the Malayan Communist Party. A State of Emergency was declared throughout the Federation of Malaya, with the conflict lasting until 31 July 1960.
No 604 Squadron, AAFC, has supported the SA/NT Branch in conducting an annual memorial service for Malaya and Borneo veterans every August since the first service in 2011. For this special 70th Anniversary event, 604 Squadron again provided a Catafalque Party, armed with innocuous .303 SMLE rifles, representative of the post-war era.

No 608 (Town of Gawler) Squadron, AAFC has a long history of supporting local Anzac memorial services. For this service, the squadron provided an Honour Guard, the Honour Guard Commander and the Catafalque Party Commander.
Other cadets who participated came from No 609 Squadron (Warradale Barracks) and No 613 Squadron (RAAF Edinburgh). A Drummer was provided by No 606 Flight (the 6 Wing Band), supplementing the musical support of the Australian Army Band-Adelaide.
There was also a special family connection on the day. About nine years ago, Dave Carse had come over from New Zealand to visit his daughter in Adelaide and was able to join the SA/NT Branch for the Anzac Day march. Dave had served as a Corporal in the New Zealand Army, and saw active service in Malaya in 1958-59 with the 2nd Battalion, New Zealand Regiment, assigned to the 28th Commonwealth Infantry Brigade.
During this 70th Anniversary service, Leading Cadet Zain Carse of No 604 Squadron, AAFC, participated as a member of the Catafalque Party, carrying a .303" SMLE rifle in honour of his grandfather.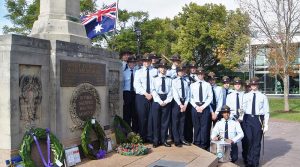 This ceremony provided an opportunity to reaffirm the common values and deep friendship that we Australians share with our Malaysian counterparts and the other allied countries we served beside, not just in Malaya but during all other wars and peacekeeping operations.
The SA/NT Branch is also establishing strong bonds with the local Australian Air Force Cadets, and the Branch expressed its appreciation for the outstanding professional support provided by No 6 Wing.
Their speaker noted, in the 1950s and early 60s, how many of those who deployed to Malaya had served in a cadet unit before joining up for military service, not thinking that within a few years they would be deploying on active service. In just a few years' time, the cadets of today could well be serving in one of our armed services, quite likely already on their second operational deployment or humanitarian mission.
Flying Officer (AAFC) Paul Rosenzweig, 6 Wing Public Affairs & Communication Officer said, "While guests and veterans placed wreaths and tributes, it is significant to note that the SA/NT Branch is active in not only remembering the fallen, but supporting the surviving veterans and looking to the future".
.
.
.
.
.

.
.

.

---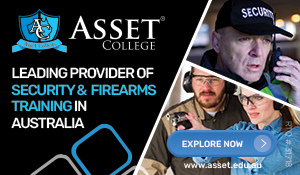 ...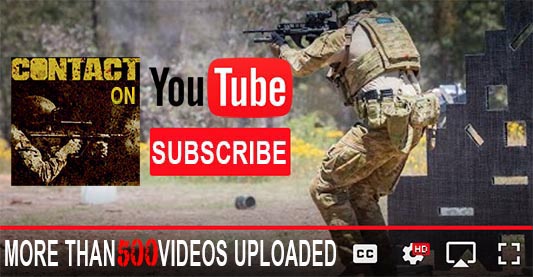 ---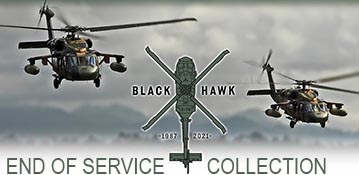 ...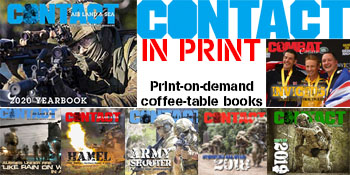 ---
.
.
Share the post "6 Wing AAFC helps mark Malayan Emergency 70th"
7841 Total Views
4 Views Today