Murray Bridge Air Force Cadets promise to remember Bomber Command
Share the post "Murray Bridge Air Force Cadets promise to remember Bomber Command"

HONOURING THE BOMBER COMMAND LEGACY
No 6 Wing AAFC is the official custodian of the Adelaide Air Force Memorials at Torrens Parade Ground in Adelaide.
On Sunday 4 June, Air Force Cadets supported the RAAF Association (SA Division) annual Air Force Memorials and Bomber Command Service by mounting a Catafalque Party and Honour Guard.
See links –
Bomber Command memorial service in Adelaide – Part 1
Bomber Command memorial service in Adelaide – Part 2
Meanwhile, in Murray Bridge No 622 Squadron AAFC unveiled a very special Honour Board. This Honour Board contains the names of the 37 Australians killed while serving with No 622 Squadron RAF (Bomber Command).

CAPTION: Merv Schopp, President of Murray Bridge RSL (left) and Bob Lewis, representing Mannum RSL, unveil the 622 Squadron RAF and 622 Squadron AAFC Honour Board.
Image contributed by 622SQN
No 622 Squadron RAF was formed on 10 August 1943 at RAF Mildenhall in Suffolk, and was initially equipped with Stirling bombers. In December 1943 the squadron acquired Avro Lancaster Mark III long-range bombers, and conducted operational bombing sorties over Europe as part of Operation 'Pointblank' (the Allied Combined Bomber Offensive against Germany).
In April-May 1945 the squadron conducted supply drop missions, dropping food to the starving people of The Netherlands (Operation 'Manna'). Then, after the German surrender, the squadron dropped supplies to former prisoners of war and ferried many of them back to England from Italy (Operation 'Exodus'). The Squadron was disbanded at Mildenhall on 15 August 1945.
Unveiling the Honour Board in Murray Bridge were representatives from the Mannum and Murray Bridge RSL Sub-Branches. Assisting them was Cadet Corporal Teagan Thomas from 622 Squadron.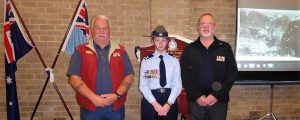 Pilot Officer (AAFC) Paul Rosenzweig, 6 Wing Public Affairs & Communication Officer, said "It was significant that Cadet Corporal Thomas attended the ceremony in honour of her great-grandfather, Bomber Command veteran Cyril Kroemer DFC, whose medals she wore".
416380 Flight Lieutenant Cyril Roy Kroemer DFC from Wilmington, SA, served in the Royal Australian Air Force from 24 May 1941 to 12 October 1945. He flew his first operational missions with No 12 Squadron (as a Flight Sergeant pilot) based at RAF Wickenby. From October 1943 he was captain of a Lancaster with No 625 Squadron RAF (Bomber Command), conducting mostly night raids over Europe from RAF Kelstern in Lincolnshire, UK. Cyril Kroemer was also involved in Operation 'Manna' and Operation 'Exodus' missions, and was awarded the Distinguished Flying Cross (DFC) for bravery.
In his address, the Commanding Officer of No 622 Squadron AAFC, Pilot Officer (AAFC) Paul Lemar said "The men of Bomber Command were younger on average than other men who served in World War 2. Most were between 19 and 25 years of age. The average age of the Australians killed with 622 Squadron was 23. Invariably, they were some of the fittest and brightest of their generation".
During the brief but solemn ceremony, a dedication was given by the Squadron Warrant Officer, Cadet Warrant Officer Walter Harris who delivered the Airmen's Prayer. The unveiling was followed by the Last Post, a Minute's Silence, the Rouse and the Australian National Anthem.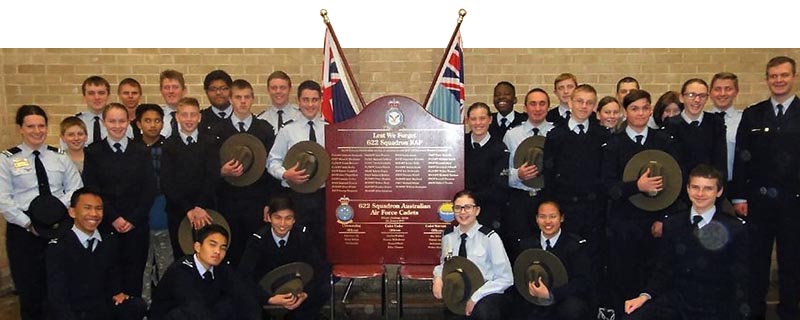 Lest we Forget
.
.

.


.
+ + +
.


.
.
.
.

.

---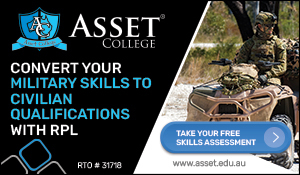 ...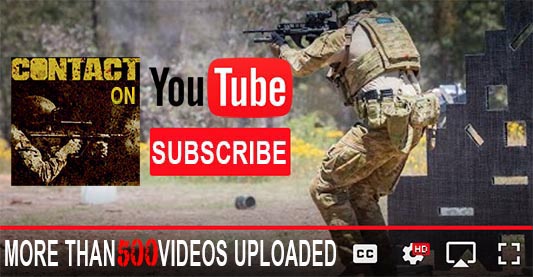 ---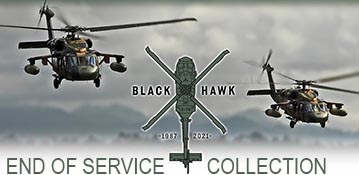 ...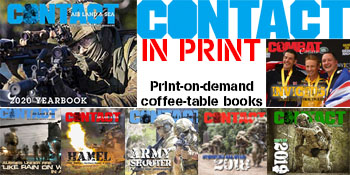 ---
.
.
Share the post "Murray Bridge Air Force Cadets promise to remember Bomber Command"
6975 Total Views
2 Views Today