SURVIVING AT CLOSE QUARTER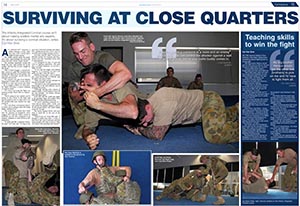 The Infantry Integrated Combat course isn't about making soldiers martial arts experts, it's about surviving a combat situation
AN ASSAILANT surprises a soldier clearing a room, stabbing him with a knife that's caught by body armour.
Story and photos by Cpl Max Bree 
The soldier quickly grabs the assailant's neck, starts pushing him across the room and yells "Assist! Assist! Assist!"
The assailant repeatedly swings the knife but can't land another hit on the soldier who has him at arm's length by the throat.
After a brief struggle, a second soldier comes in, grabs the assailant from and takes him to the ground. The assailant is disarmed, moved onto his stomach and secured.

The scenario was part of an Infantry Integrated Combat (IIC) course held at 8/9RAR in April and run by Cpl Adam to prepare soldiers for close-quarter fights following a weapon stoppage or surprise attack.
"It's about surviving the fight, not making people black belts in Jujitsu," he said.
"You're going to cop a punch, you're going to cop a blow to the body and you're going to have to deal with it for 20 seconds until your number two man comes in.
"In a real threat environment there's a chance you're going to deal with being slashed or cut."
The week-long courses have been run for trainees at Singleton since August 2015 and Cpl Noke's course at 8/9RAR was the first conducted at an infantry battalion to train NCOs as IIC instructors.
"It works just like a weapons instructor qual," Cpl Noke said.
"As long as the guys have TAE10 [a training and education qualification] they never need to recertify and can keep running courses."
Cpl Noke said IIC didn't involve traditional martial arts training and functioned more like immediate action drill in close-quarters.
"It's designed for that 17-year-old with no fighting experience, who gets into a combat situation, to survive a fight," he said.
"If you pull the trigger and nothing happens, or if someone you don't see grabs you, that's when IIC starts."
Without having done a lot of martial arts, LCpl David Hill, of 8/9RAR, said the skills were easy to learn.
"With your body armour and gear on you feel invincible," he said. "You learn to use your equipment and bodyweight in the most effective way to dominate the enemy.
"Although sparing with a bunch of infantry dudes is never going to be at 50 per cent strength – it's always 100 per cent with these guys."
LCpl Hill said IIC could also apply to the guardian angel role soldiers from 8/9RAR recently performed in Iraq.
"If you're guarding someone in a room and an enemy pulls a knife, you can control the attacker against a wall or on the ground before your battle buddy comes in," he said.
The newly trained NCOs will now look to teach IIC to the rest of the battalion.
"They'll love it," LCpl Hill said.
"I thought it might have been a waste of time but it has a lot of relevance and that means people will want to learn it.
"Plus, who doesn't like punching their friends?"
.
.
Teaching skills to win the fight
AS THE second eldest of four brothers, Cpl Adam Noke knew something about fighting from a young age.
"My big brother Nelson would get the other two to pick on me and I'd have to fight them all," he said.
"He'd protect them when I fought back and then he'd fight me.
"We'd fight each other but nothing would come between us and we're still best mates to this day.
" Years later, Cpl Noke was involved in writing Infantry Integrated Combat (IIC) doctrine for close-quarter fighting.
"There was no doctrine on how to handle those situations where you have to fight with all your kit and weapons," he said.
"We had bayonet drills but 'In! Out! On guard!' isn't going to help if an enemy blindsides you or grabs you from behind."
The journey started with a demonstration of special forces closequarter fighting by former commando Sgt Paul Cale at the School of Infantry.
From there, Cpl Noke – along with Capt Jacob Kleinman and Sgt Michael Kitcher – started to develop doctrine that would become IIC.
"I took to it because of my MMA [mixed martial arts] background, and I was really interested in getting something done with some new doctrine," he said.
Cpl Noke was first introduced to the sport by his younger brother Kyle, who went on to become a professional MMA fighter, competing overseas in the Ultimate Fighting Championship.
Development of IIC started at Singleton in mid-2014 with pilot and draft courses being run until the program was finalised in late 2015.
Cpl Noke said the result was simpler and more practical skills for infantry soldiers compared to the all-corps Military Self Defence (MSD) course.
"MSD combined about 80 movements from two or three different martial arts," he said.
"To be able to learn and apply what those guys picked up over 20 years in a week isn't really possible.
"And to be able to remember those martial art skills in the heat of battle is almost impossible." Instead, IIC was designed to be quickly taught and easily remembered.
"IIC is 17 movements – it's more of a drill," Cpl Noke said.
"To get from the first movement to the last, it's a flowing effect that rolls together.
"It gives you the opportunity to survive a situation and dominate an opponent."
.
.
.

.
.

.

---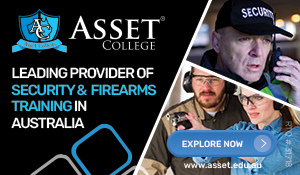 ...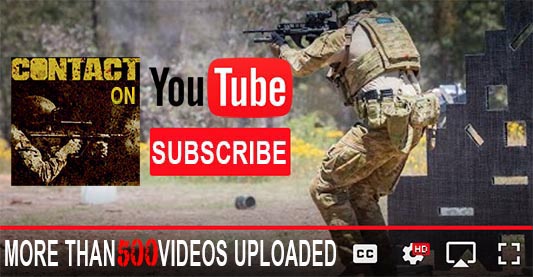 ---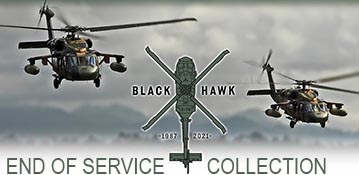 ...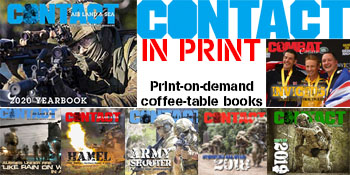 ---
.
.
16193 Total Views
4 Views Today