Managing Editor
and Advertising Sales
Brian Hartigan
editor@militarycontact.com
Mobile: 0408-496-664
Fax (02)-4293-1010
Business Manager
Rosie Hartigan
Fax (02)-4293-1010
subscriptions@militarycontact.com
Postal Address
PO Box 3091
Minnamurra
NSW 2533
ABOUT OUR PRODUCTS:
CONTACT Air Land & Sea reports on the people, platforms and operations of the world's defence forces, particularly Australia. CONTACT is dedicated to presenting photos and stories that capture the essence of serving-members' lives and interests, as far as possible from the insider's perspective.
CONTACT Air Land & Sea web site is our internet-based headquarters where we publish daily news and other interesting, related items. We also use Facebook, Twitter, Pinterest and YouTube as 'embassies' where we engage our audience, inviting them back to our headquarters. This site attracts more than 4million page views a year, averaging more than 40,000 unique visitors per month.
CONTACT Air Land & Sea newsletter is a free fortnightly email-based publication that draws attention to recent news stories. Its intent is to bring readers the best of the previous fortnight in a handy-reference format, linking back to the original story in our headquarters (web site) – and updating subsequent developments to older stories. The newsletter is sent to more than 13,000 registered email addresses.
CONTACT Air Land & Sea magazine is a high-quality, full-colour, features-based magazine published four times per year. Initially launched in March 2004 as a traditional paper-based magazine, it switched to digital in 2013. It is now only available by FREE subscription and sent to the same 13,000+ email addresses.
Paper copies of issues 1 to 40 of CONTACT Air Land & Sea magazine, can still be purchased here. Many of our magazines (including the early paper-based ones) have been added to our digital archive here.
COMBAT Camera is a high-quality, full-colour, photo-essay-based magazine published on an ad hoc basis, usually as a single-subject feature. This magazine is distributed to the same subscriber base and is also archived here.
ABOUT Brian Hartigan
I am the Managing Editor of Contact Publishing Pty Ltd and a founder of the company (2003). I currently work full time on this project.
I am still on the books as a Reservist Sergeant in the Australian Army Public Relations Service (though I haven't actually served for a couple of years, because of health issues). I transferred from the full-time Army to the Active Reserve in 2002.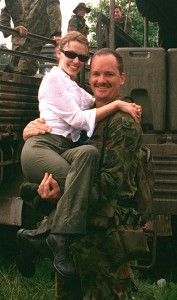 I served almost 12 years in the full-time Army, first as an Aircraft Fitter (helicopter mechanic)(seven years) and then as a reporter at ARMY Newspaper (and ARMY Magazine – now defunct)(five years).
In the Army, I deployed to East Timor in 1999 as a member of INTERFET.
When I left the full-time Army in 2002, I worked for five years with the Australian Federal Police as Editor of Platypus, their professional police journal, and as a PR photographer.
As an AFP photographer, I deployed on the first rotation of the Regional Assistance Mission to the Solomon Islands (RAMSI).
My time with the AFP coincided with the birth of CONTACT magazine, which was produced with the assistance of one partner (no longer involved) as a sideline to what was a pretty full-on day job.
I am pleased to say I can currently devote much more of my brainspace to CONTACT.
Other jobs I've held down (for various lengths of time) include Editor RAAF Newspaper, Chief of Staff Army Newspaper, Media Operations Officer Defence HQ – and, as a younger man, taxi driver, lawnmower, car washer, furniture removalist and dairy farmer.
I am on the high side of 50 years old, married to Rosie, with two adult daughters, two granddaughters and one son-in-law.
My wife and I both speak with remnants of Irish accents, but we've lived in Australia longer than we lived in Ireland.
Read more about my credentials as a defence reporter – and my motivations for starting CONTACT Magazine here.
.
.
.
.
32718 Total Views
1 Views Today