Infrastructure and lifelong friendships built
Share the post "Infrastructure and lifelong friendships built"

Exercise Puk Puk concluded with the Manus Island community hosting celebrations after a job well done.
CAPTION: Brigadier David McCammon, right, officially opens renovated classrooms with Papua New Guinea Defence Force (PNGDF) representatives during Exercise Puk Puk, Manus Island, PNG. Story by Major Taylor Lynch. Photos by Lance Corporal Riley Blennerhassett.
Over six weeks, tradies from Townsville's 3rd Combat Engineer Regiment led Australian Army engineers in repairing stairs, decking and roads. They made electric wires safe in the married quarters, and renovated a classroom for children of Papua New Guinea Defence Force (PNGDF) members posted to the base.
The activity also involved the PNGDF Engineer Battalion and British Army, who celebrated the completion of much-needed renovations to infrastructure on Lombrum Naval Base to improve residents' quality of life.

PNGDF Commander Buni Lorea appreciated what the contingent achieved in such a short time.
"Most of the works being completed are repairs and maintenance around the school and married quarters, and there are lots things to be done here," Commander Buni said.
"It really helps our kids. This sort of help coming in allows the kids to not be disturbed moving from one room to another during the rainy season. It will help with their learning.
"I would like the team to come back in the future."
Commander Buni said having Australian Army personnel in Papua New Guinea has made the relationship between the two countries stronger and is the way forward.
"Knowing our neighbours and doing this kind of good work, it brings us together, builds the relationship, makes it firm and strong," he said.
"We work alongside each other, sharing ideas on the worksite and culturally.
"It helps us to understand each other."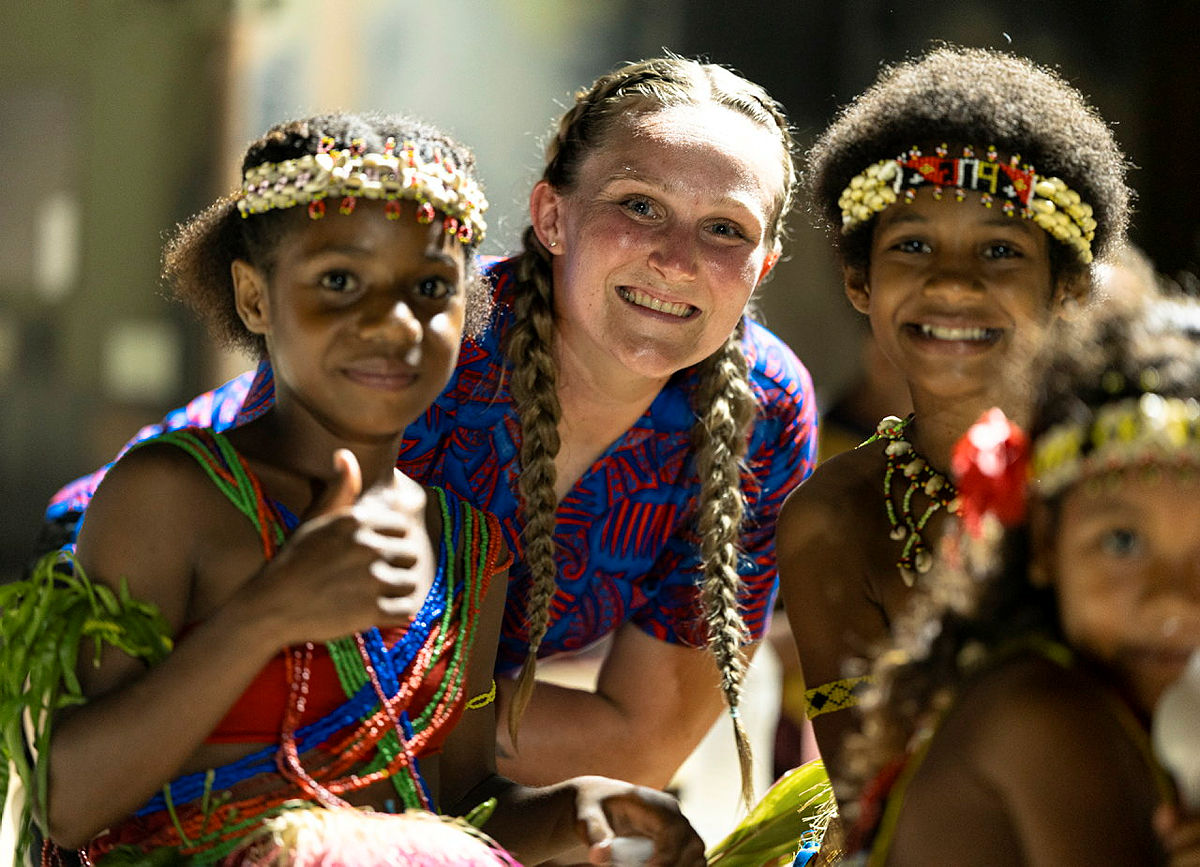 CAPTION: An Australian Army soldier from 1st Close Health Battalion with local children during Exercise Puk Puk.
Australian Army Captain Helena Sorial said Puk Puk had been a rewarding experience.
"Puk Puk has been running for more than 20 years, and we have worked with the PNGDF every time," Captain Sorial said.
"The best part is working with the PNGDF in their country, experiencing their culture, and doing real-time tasks.
"When you go overseas on holidays, you often skim the surface of understanding a place and its people. But [here] we get to interact, see how the people live, how they work, and complete the work with them.
"After Puk Puk I have a deeper understanding and appreciation of the culture here."
With work complete, ADF members enjoyed a few days of festivities, dancing and feasts from a traditional Mumu to celebrate with the community.
In the coming weeks they will leave Lombrum Naval Base, farewell their PNGDF counterparts, and begin reconnaissance for the next iteration of Exercise Puk Puk in 2024.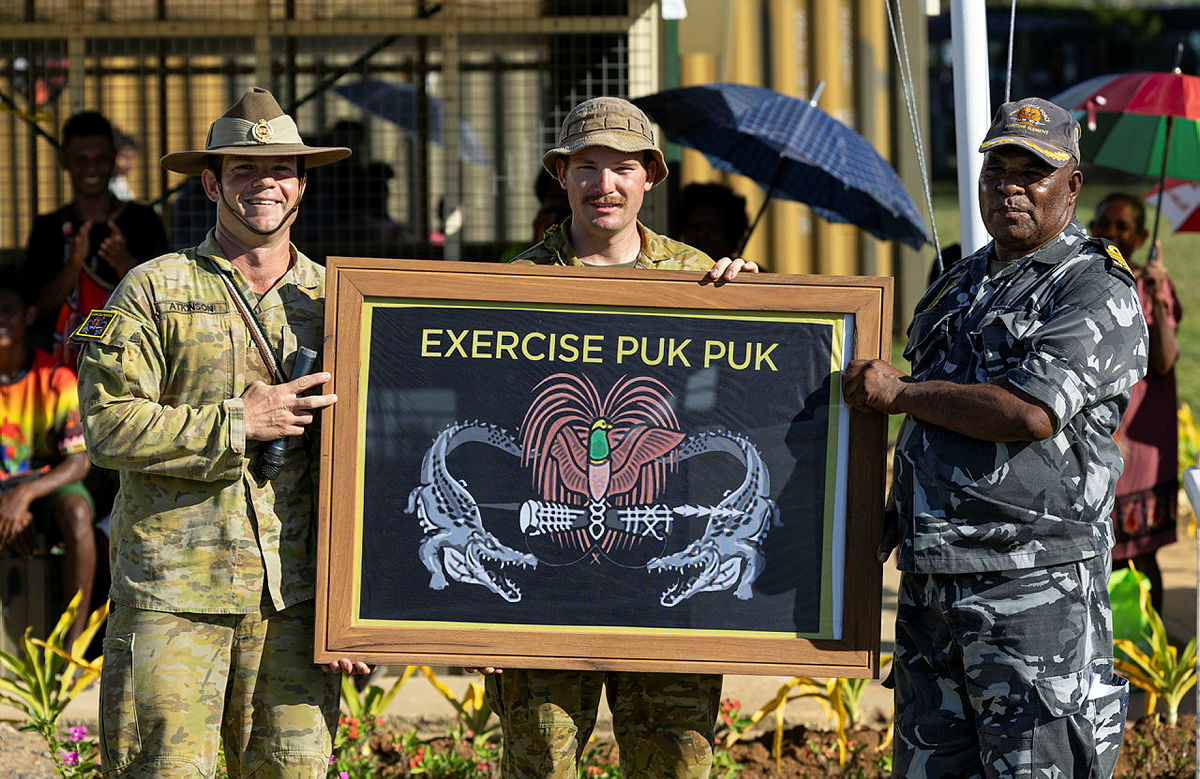 CAPTION: Representatives from the 3rd Combat Engineer Regiment hand over a gift to Commanding Officer Lombrum Naval Base Commander Buni Dorea during the closing ceremony of Exercise Puk Puk.
.

.
.

.

---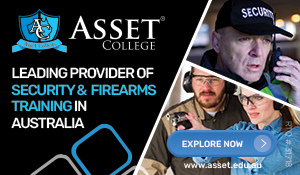 ...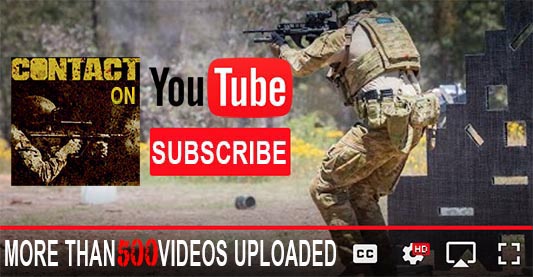 ---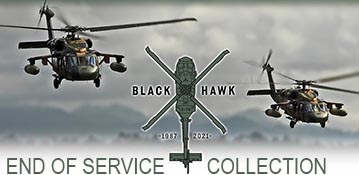 ...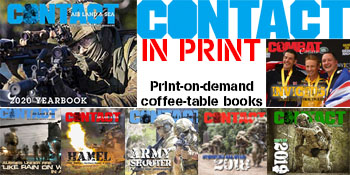 ---
.
.
Share the post "Infrastructure and lifelong friendships built"
2357 Total Views
4 Views Today