Thank you for subscribing
Thank you for subscribing to the best boots-on-the-ground military-media outlet in Australia.
We will only use your email address to send you our quarterly magazine, two fortnightly newsletters and the occasional newsflash.
In the mean time, however, there's thousands of pages of news and entertainment on this-here web site to explore, plus loads more on our YouTube Channel.
So, please, stick around, have a browse, stand by for our next email – and, if you like what you see, please tell your friends about us and encourage them to also SUBSCRIBE FREE.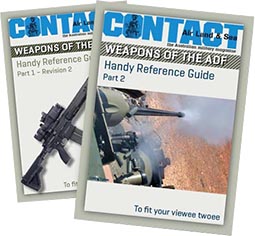 .
Here is your promised reward…
Weapons of the ADF Part 1 HERE
Weapons of the ADF Part 2 HERE
You can download and print these unique weapon guides to fit neatly into a viewee twoee field notebook. Although you don't actually need a viewee twoee to put them in, but if you want one we have those for sale here.
AND….
AN EXTRA BONUS:
We've teamed with Military Shop to get you a discount on these really cool, collectable miniature rifles. Use promo code CONTACTSUB at checkout for 20% off.

.
.
ABOUT CONTACT
CONTACT is owned and operated by an Australian Army veteran.
CONTACT Air Land & Sea reports on the people, platforms and operations of the world's defence forces, particularly Australia. CONTACT is dedicated to presenting photos and stories that capture the essence of serving-members' lives and interests, as far as possible from the insider's perspective.
CONTACT Air Land & Sea web site is our internet-based headquarters where we publish daily news and other interesting, related items. We also use Facebook, Twitter, Google+, Pinterest and YouTube as 'embassies' where we engage our audience, inviting them back to our headquarters. This site attracts more than 4million page views a year, averaging more than 40,000 unique visitors per month.
CONTACT Air Land & Sea newsletter is our free fortnightly email-based publication that draws attention to recent news stories. Its intent is to bring readers the best of the previous fortnight in a handy-reference format, linking back to the original story in our headquarters (web site) – and updating subsequent developments to older stories. The newsletter is sent to more than 13,000 registered email addresses.
CONTACT Air Land & Sea magazine is a high-quality, full-colour, features-based magazine published four times per year. Initially launched in March 2004 as a traditional paper-based magazine, it switched to digital in 2013. It is now only available by FREE subscription and sent to the same 13,000+ email addresses.
Paper copies of issues 1 to 40 of CONTACT Air Land & Sea magazine, can still be purchased here. Many of our magazines (including the early paper-based ones) have been added to our digital archives here.
COMBAT Camera is a high-quality, full-colour, photo-essay-based magazine published on an ad hoc basis, usually as a single-subject feature. This magazine is distributed to the same subscriber base and is also archived here.
.
.
.
.
.
.
20928 Total Views
2 Views Today