AAFC on display at Edinburgh Air Show 2019

During the Edinburgh Air Show, Aviation Operations Wing (AOW) of the AAFC is displaying a DG1000S sailplane glider and one of the new Diamond DA40 NG training aircraft, which has been leased for exclusive use by the Australian Air Force Cadets.
CAPTION: DA40 trainee pilot Leading Cadet Tristan Hahn (No 605 Squadron) with a Diamond DA40 NG operated by the AAFC's Elementary Flying Training School, at RAAF. Photo by Kerstin Hahn.
With the theme of the Edinburgh Air Show – 'Vimy to Fifth Generation in 100 years' – Defence promises "an exhilarating, action packed Air Show".
Adelaide already experienced the fly-in of military and historic aircraft on Thursday, and flying display rehearsals on Friday.
Now, the two-day weekend event will showcase advances in aviation technology over the 100 years since Sir Ross and Sir Keith Smith made their epic flight from England to Australia.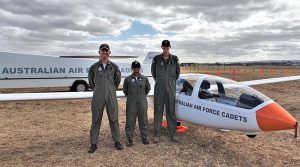 One of the Air Force Cadets on duty the air show this weekend is Cadet Warrant Officer Ian van Schalkwyk, who, within two years of joining the AAFC, had received his First Solo Badge for gliding, and is now in the final stages of training to become a glider pilot instructor.
CWOFF van Schalkwyk recently spoke to the Public Affairs & Communication Officer for Aviation Operations Wing, Flying Officer (AAFC) Paul Rosenzweig, about the achievement of flying solo.
"Going solo is an incredible sense of freedom, that is seldom if ever experienced on the ground by adults let alone by someone aged 15 years and 4 days," CWOFF van Schalkwyk said.
"Going solo employs so much freedom, and of course so much responsibility."
Cadet Sergeant Nic Sibly will also be on duty beside the AAFC's DG-1000S glider, ready to answer questions from the public.
He will enthusiastically tell you, "I know it's only been a couple of years since I joined up, but I've done so much . . . I haven't missed a gliding camp since I started".
"I'm pretty committed to the AAFC."
Heading up the Glider team is Cadet Under Officer Benjamin Dunk, another solo glider pilot, 'C' Certificate qualified, who provides instructional support to No 906 Aviation Training Squadron.
He will eagerly reflect on the moment he went solo.
"After completing my glider-pilot training and achieving my A, B, and C Certificate, I was called to the front of my fellow cadets and presented with my wings by my Commanding Officer who congratulated me on behalf of the squadron," Cadet Under Officer Dunk said.
"To stand in my Service Dress uniform with a set of wings over my heart was arguably one of the proudest moments in my life."
One of the Cadets on duty with the new Diamond DA40 NG light aircraft will be Cadet Corporal Max Ramm.
He recently reflected on his flying experience – "Flying solo for the first time in the DA40 NG was probably the best experience of my life. After the weeks of hard work that went into getting to that moment, it was all worth it".
Patrons will also have the chance to discuss the DA40 NG with Cadet Corporal Declen Love, another of our solo pilots.
"On 9 June 2019 I went solo," Cadet Corporal Declen Love said.
"When I was taxiing towards the runway, I had many different emotions running through my head.
"Ten years I have been waiting to fly by myself, and the wait was definitely worth every second.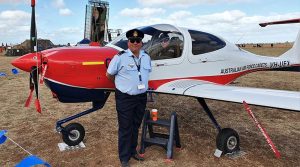 "The feeling will stay with me forever."
Cadet Corporal Jessica Scott is one of the most recent solo pilots.
She is proud to be perpetuating her family's military heritage.
During World War Two she had three great-grandparents serve in the RAAF, one as an Aircraftwoman flight mechanic, one as a Leading Aircraftman instrument repairer, and another as a Flying Officer air gunner and pilot.
CCPL Scott is also keen to talk about her first solo flight.
"My first flight in the DA40 was amazing," CCPL Scott said.
"I had never been in an aircraft with such modern technology like the Diamond has.
"When I took the controls for the first time, my heart was pounding.
"Going solo was a surreal moment – actually, going solo, I didn't feel terrified, I felt so excited that I had made it to being able to go solo."
Cadet Warrant Officer Ian van Schalkwyk will have this advice for parents and prospective cadets – "Remember, cadets is very much what you make it, so if you want to fly, then nominate for flying activities, if you want to shoot, then nominate for firearms activities, etc".
"Finally, just enjoy it.
"You are getting a unique opportunity to do amazing things so early in life that it can become difficult to remember that you're there for fun."
.
.
.
.
.

.
.

.

---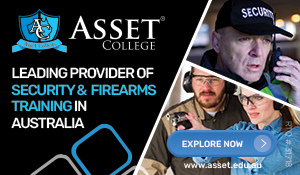 ...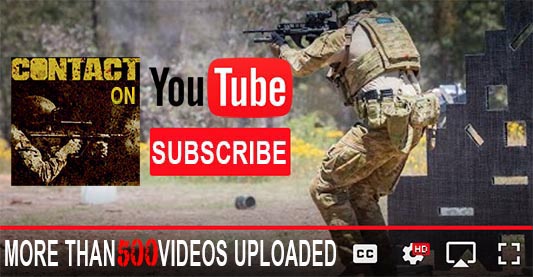 ---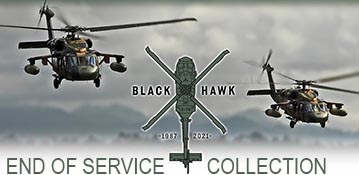 ...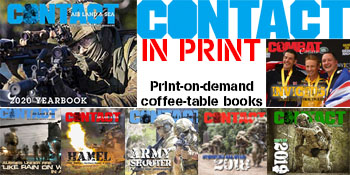 ---
.
.
5749 Total Views
2 Views Today