VALE – WO2 William James Cunneen 1933-2016

Japan, Korea, Malaya, Borneo and 907 days in Vietnam – more than 10 years Active Service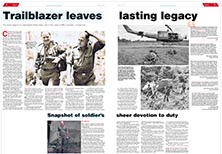 Trailblazer leaves lasting legacy
COVERING the Korean War may have given Bill Cunneen an aversion to snow, but it didn't stop him getting into hot water on occasion during his illustrious 50-year career as a Defence photographer in uniform and out.
CAPTION: Billy Cunneen (left) – a legend in Australian Army Public Relations – with Ken Blanch in a photo taken at Shoalwarter Bay, Queensland, in the mid 1960s.
Former WO2 William James Cunneen (25597) died on New Year's Eve in Sydney and during his funeral service at Waitara Cathedral in Sydney on January 7, he was remembered by the former Director General Defence Public Information and fellow Vietnam veteran Brig Adrian D'Hage (retd) as a dedicated, professional soldier and photographer who had a touch of mischievousness about him.

"Billy first saw combat as an infantryman in 3RAR in Korea in 1952 and I gather the severe winter of that year ensured he would never take up skiing," Brig D'Hage recalled during his eulogy.
"When he was covering one of the Duke of Gloucester Cups, in order to get the right shot, and to the bewilderment of competition control, Bill was last seen, cameras festooned around his neck, charging into a cloud of tear gas."
Brig D'Hage also spoke about Bill's pedanticism when it came to getting just the right shot, which, on occasion, was the cause of much frustration.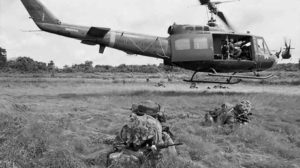 "As a young PR officer in the early 80s in Brisbane, Capt Dick Palk accompanied WO Cunneen on a landing craft with a platoon of soldiers from 6RAR on what was meant to be a daylong amphibious training exercise on Moreton Bay," Brig D'Hage said.
"Bill's task was to photograph the infrantrymen storming off the craft on to a small deserted island that was actually not much more than a sandbar.
"Bill insisted, as only Bill could, on multiple takes, with the craft's ramp down for each shoot.
"Bill shot so many takes before he was satisfied, that no one noticed the tide had gone out and the heavy landing craft was stuck fast. Nor did they possess any night-time navigation equipment for the midnight tide.
With no rations, and only the clothes they were in, they were there until well into the following day. It was premobile phones, and on shore, the local gendarmerie was dealing with calls from distraught families about their loved ones lost at sea.
Bill's photograph, however, ran on page 1 of the Courier Mail, and in the Macquarie book of events for 1983, you will find that same photograph illustrating the chapter dedicated to the Army. Ever the professional, for Bill, the quality of the shot was all that mattered."
Tributes poured in far and wide for Bill, who right up until 2012, was still providing photos and stories for Army News, though he had long been retired.
In August last year Bill featured in an article in Army News as part of a special 12-page liftout commemorating the 50th anniversary of the Battle of Long Tan. His photographs were used throughout the liftout and throughout the 57-year history of the Army News.
Prime Minister Malcolm Turnbull, CDF ACM Mark Binskin, Governor General Gen Sir Peter Cosgrove (retd), NSW Governor Gen David Hurley (retd) and acting Director Australian War Memorial Tim Sullivan all praised Bill's work and the man himself in condolence letters to Bill's family.
"The images taken after the Battle of Long Tan will stand out as a most important and accomplished body of work and a prized part of the Australian War Memorial's national collection," Mr Sullivan said in his letter. "His photographs taken over a lifetime of service, are an essential part of Australia's military record," Sir Peter said.
"They remind us of who we are as a nation, they speak to the values and ideas we have fought for, and they stand as testament to the deeds and sacrifices of so many servicemen and women."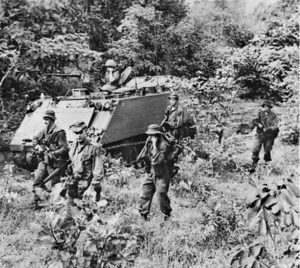 ACM Binskin said Bill had left a lasting legacy. "Many years have passed since Bill's long and dedicated service in the ADF concluded," ACM Binskin said. "His military service is perhaps best remembered for his iconic photographs … but his legacy is much greater than these historic images."
Bill spent more than 10 of his 33 years in the Army on active service in multiple theatres including with the British Commonwealth Occupation Force in Japan, with 3RAR in Korea, on operations with the 1st and 3rd Battalions during the Malayan emergency, in Borneo during Confrontation, and an incredible 907 days on duty in Vietnam.
His photos and personality captivated the Army and the ADF and Brig D'Hage said he would be remembered as one of the best known and highly regarded soldiers to don the uniform and provided a valuable service throughout his career.
"For 50 years his shutter recorded the actions and sacrifices of legions of Australian servicemen and women.
It is a legacy that will remain part of Australian military history forever.
"Modest to the core, and a true gentleman, he was one of the finest combat cameramen this country has ever produced."
THE HIGHEST PRAISE
Bill Cunneen was a man who saw the same things we all see, but he had that great and rare ability to capture them — to capture moments, time and history. His photographs … remind us of who we are as a nation, they speak to the values and ideals we have fought for, and they stand as testament to the deeds and sacrifices of so many servicemen and women. Bill witnessed some of the defining and most difficult times our country has faced — 50 years on from the Battle of Long Tan, Bill's images are as powerful and insightful as ever. Bill's family, friends and colleagues knew him as a true gentleman, a man of modesty, honour and quiet resolve; someone whose legendary and trailblazing work speaks for itself.
General Sir Peter Cosgrove, Governor General of Australia
---
His work was, and continues to be, instrumental in explaining to all Australians the sacrifices made by Bill's comrades in some of the most challenging conflicts in our nation's history. I understand Bill was the first military photographer into the area after the Battle of Long Tan and remember well the iconic photos he took following the battle. His work continues to live on, including in the archives of the Australian War Memorial. Please accept my thanks on behalf of a grateful nation for Bill's tireless service and unique legacy.
Malcolm Turnbull, Prime Minister 
---
Bill continues to be an inspiration to generations of military photographers and his influence is reflected in the work of our contemporary photographers, particularly in the pages of the Army News, which Bill helped make become the institution that it is.
Through his service in Japan, Korea, Malaya and Borneo, and his three tours of Vietnam, Bill did more than most to serve Australia during the tumultuous post-war period. This remarkable career deserves to be celebrated.
Air Chief Marshall Mark Binskin, Chief of Defence Force
---
Through this legacy his contribution as a fine Australian will not be forgotten. I recall Bill quietly and professionally recording numerous events – a great number of my memories have been captured by his camera.
General David Hurley, Governor of New South Wales
---
Over 1000 of Bill's images are publicly available through our website. Viewing them highlights his great talent for working in the field capturing Australian servicemen and women with his wonderful eye for engaging naturalistic composition. The images taken after the Battle of Long Tan will stand out as a most important and accomplished body of work and a prized part of the Memorial's National Collection. We are grateful to him for the work he created – for his skill, his commitment and his vision, which will remain a treasured part the National Collection for future generations.
Tim Sullivan Acting Director Australian War Memorial
---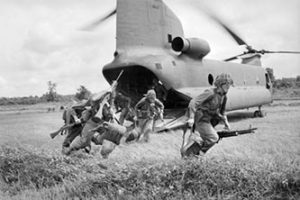 Snapshot of soldier's sheer devotion to duty
BILL 'Spacey' Cunneen was one the most widely-known soldiers in the Army in the 1960s and 70s. Bill and I became close friends during our mutual service with Army PR in South Vietnam in 1966, when he was a very active still and cine cameraman based with 1RAR and later 6RAR, in 1966-67.
We counted ourselves lucky to have been on R & R together at the time of the Battle of Long Tan, returning to South Vietnam the day after, where Bill participated in the mop-up.
One of our big assignments together was a film to be in colour on all aspects of the Australian Army's participation in South Vietnam for the then CGS, who presented it to that year's meeting of the joint chiefs of staff as his briefing.
We had no facilities for such a job, but Bill mated up with the combat film unit of the US Air Force based at Ton Son Nuht and scrounged from them colour film they used in air-to-ground combat aircraft. They processed it at their laboratory and edited it for us, but there was no sound facility.
I wrote a commentary that was later dubbed on to it in Australia. The whole job was successful because of Bill's dogged determination. It was all done in the middle of the wet season, and the only cine camera we had was a tiny 16mm wind-up Bell and Howell that kept seizing up because of the humid weather. Towards the end of the job we were squirting penetrine into its innards every few minutes to keep it going.
The film was a success at the joint chiefs' conference, although I had trouble getting it through Customs when I brought it home for personal hand-delivery to the CGS because I wouldn't allow them to view it in Perth. They were concerned, of all things, that it might depict dead bodies. It was released later for TV and general cinema viewing.
People who met Bill in his military life were always intrigued by his nickname, 'Spacey', which was used to address him by all ranks, from generals down, for most of his Army career, and wondered how he got it. I wondered myself after hearing several secondhand versions – always wrong – until he told me the story personally.
As a young sergeant stationed at Enoggera, Brisbane, he went for parachute training, returning to 1RAR flaunting highly-prized parachute badges on his sleeves.
On being quizzed by a couple of other snakes in the bar of the first-floor sergeant's mess as to whether he could fly, he said: "Of course I can, can't you see my wings?"
He was promptly seized by the arms and legs and thrown through an open window by the roisterers to check the statement out, landing in a soft garden bed below and returning to the bar without injury to be dubbed the spaceman in those heady early days of space exploration.
Bill always reckoned the funniest assignment he ever had was to shoot some road signs that had been erected at Enoggera base in Brisbane.
The engineer unit that erected them rejected the pictures because he shot them in black and white which they were and demanded that he return and shoot them in colour.
He continued to take pictures for the Army as a civilian for many years until health beat him in his 70s. Even then he continued his insatiable interest in Service affairs, and stipulated his preference for donations to Legacy over flowers at his funeral.
One of my fondest memories of Bill was the day I, as a fairly competent boatman, was trying to cross the Song Be river in South Vietnam with him as a passenger.
We had found an abandoned native boat with only one oar, which I was wielding as a paddle, when we encountered a strong midstream current and started to go around in circles, with Bill becoming a bit twitchy.
"Keep still," I told him, "or we'll go arse over head."
"I will," he said. "I can't swim."
That was Spacey – a flier but not a swimmer.
Ken Blanch was crime reporter on many newspapers, including The Courier Mail. He was a captain in the Australian Army and did a tour of duty as a public relations officer with 1RAR and 6RAR in Vietnam in 1966.
---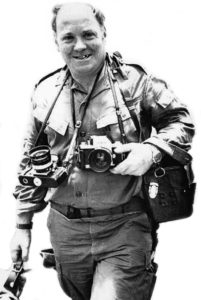 I knew him well Horatio

(but, alas, not well enough)
I knew Bill Cunneen in his later years, past his prime, but still dedicated to photographing the Australian Army.
He was our go-to man in Sydney. Give him a quick brief and a point of contact – and relax, secure in the certain knowledge the job was covered.
The only thing that stopped us using Billy more often was having to explain to bean counters why a non-Defence member, who wasn't employed nor paid for his services (he would only accept the price of a sandwich for his 'day out'), was hiring cars in our name.
When I knew him and tasked him, Billy was old, generally dishevelled, overweight, often breathless and sweating profusely, but it didn't stop him plodding straight out onto a paraded ground to get his photo.
I fielded more than one phone call from (usually young) officers or RSMs demanding that Billy not be sent anywhere near their unit again. But a quick recap of his legend – and an assurance that if he did drop dead of a heart attack while taking photos on an Army parade ground, he would be the happiest ex-soldier who ever entered heaven – usually brought them right back on side.
My favourite anecdote about Billy Cunneen (whether it's true or not) tells of him being sent to an airfield to photograph a Hercules conducting a low-altitude parachute-extraction-system drop.
Wanting the best shot (as always), Billy positioned himself smack bang in the middle of the expected drop zone and, in deference to the obvious danger, dug a hole and got in.
Hours later, flask of tea and sandwich consumed, when the palletised load was inevitably dropped right in front of Bill's camera, he proceeded to shoot, watching the pallet skid ever closer – ducked down as it slid overtop his hole – then got back up to photograph the retreating Hercules with it's recently disgorged load skidding after it.
No other man could get that angle.
'Billy-tapes' were also famous at ARMY Newspaper.
Billy always interviewed relevant people after he got the shots he wanted. He had a good interviewing technique and knew exactly how to pry what his editor needed out of a shy or reluctant subject.
Then his packaged product arrived at our office, bundled in official manilla envelopes (which we pre supplied him with), complete with processed film, cassette tape and pages of hand-written notes explaining and captioning the photos.
And the Billy-tape always started and ended exactly the same – "Cunneen, Cunneen, Cunneen".
Brian Hartigan
CONTACT Editor
and Reporter ARMY Newspaper (1998-2002)
.
.
.
.

.

---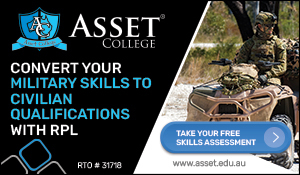 ...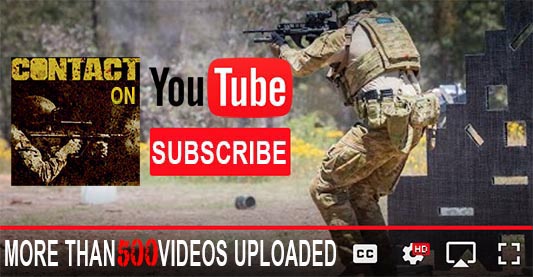 ---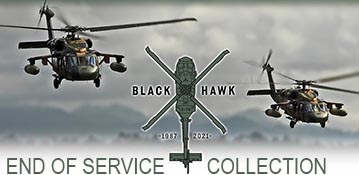 ...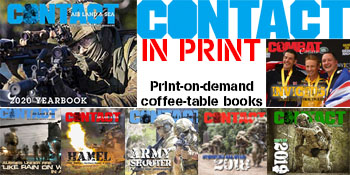 ---
.
.
15544 Total Views
2 Views Today