Aussie Hawkei wins $billion ADF contract

The Aussie-designed-and-built Hawkei has won the ADF's contract for a light protected mobility vehicle.
Designed and built by Thales in Bendigo, Victoria – the same factory that spawned the much-loved Bushmaster – Hawkei is in many ways a 'baby Bushmaster', with similar blast and ballistic protection, but in a much lighter package.
Hell, it even rolls on the same chunky wheels as the Bushmaster!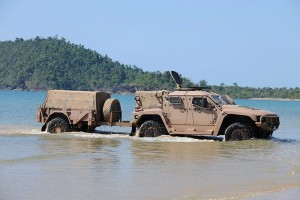 Today's announcement was made by Prime Minister Malcolm Turnbull and Defence Minister Marise Payne, at the Land Engineering Agency Proving Ground in Monegeetta, Victoria, where Hawkei has been undergoing gruelling suitability testing alongside other, foreign, contenders for the project.
Project LAND 121 Phase 4 will provide the Australian Army with protected mobility vehicles – light (PMV-L) for command, liaison, utility and reconnaissance roles.

The LAND 121 Phase 4 contract as signed today with Thales is a $1.3billion project that will provide a fleet of around 1100 vehicles and 1000 trailers.
Chris Jenkins, CEO of Thales in Australia said this was a great day for the ADF and for Australian industry.
"Hawkei is a highly capable vehicle that will serve this country well for many years to come, and we are delighted that the Department of Defence has recognised the importance of this vehicle by reaching this milestone," Mr Jenkins said.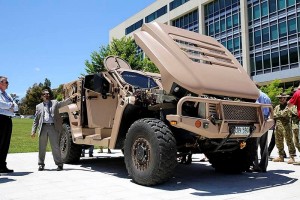 "We are proud to have been chosen to deliver this next generation of protected vehicles to our armed forces, and we stand by them ready to support and adapt it as their requirements evolve.
"We also thank our many suppliers on the program – companies in Australia and overseas that have been with us on this long journey, and who have played a significant role in shaping the Hawkei and contributing to its success. It's a great story about what Australian industry and international partnerships can achieve.
"As we move into the manufacturing phase, we will now be able to consolidate the work already begun across the Thales group worldwide to ensure the export success of this impressive vehicle."
Prime Minister Malcolm Turnbull said the Hawkei would improve protection for soldiers and enable them to operate in high-risk areas.
"It is the only protected mobility vehicle in the ADF that can be transported by ADF helicopters," he said.
"Under this $1.3 billion agreement, the vehicles will be manufactured at Thales Australia's production line in Bendigo, creating 170 jobs there and another 60 jobs [across] Victoria.
"Since 2004, the Thales assembly line has been producing the highly successful Bushmaster, widely recognised as one of the finest vehicles of its type in the world.
"As Bushmaster production winds down, the start of pilot vehicle production in early 2016 will secure the highly skilled Bendigo workforce for full-rate production of the Hawkei in 2018."
Prime Minister Turnbull said Hawkei would also pioneer a next generation communications management system to be developed in Australia by Thales.

Watch Hawkei demo its abilities on the European show circuit.

From a Thales brochure…
PROTECTION & MOBILITY
The crew protection cell provides a high level of built- in blast protection plus a scalable ballistic protection solution which is readily adaptable to meet future requirements.
The large protected air conditioned cabin has seating for up to 6 occupants in the 4-door and up to 3 occupants in the 2-door variants. Speed 115 km/h. Exceptional on and off road mobility in all conditions. 4×4 Drive with independent coil suspension. Max range 600 km.
200Kw turbo diesel engine with 8-speed automatic transmission. CH-47F external air transportable.
MISSION SYSTEMS & INTEGRATION
Thales offers Hawkei customers a broad portfolio
of mission systems equipment and integration expertise. Hawkei has been designed from the
outset with built-in features that deliver an integrated high-performing Vehicle Electronic Architecture that is GVA-compliant. Purpose designed areas can accommodate radios, computers and other electronic equipment. Hawkei is ready for current and future integrated C4I systems.
HAWKEI MISSION OPTIONS
Hawkei is designed for a diverse range of roles including:
• Troop carrier
• Command & control • Liaison
• Surveillance
• Reconnaissance
• Electronic warfare.
Weapon mount options include manned or remote-weapon-station mounted 12.7 mm (.50cal) heavy machine gun, 40mm automatic grenade launcher, 5.56mm and 7.62mm machine gun swing mounts.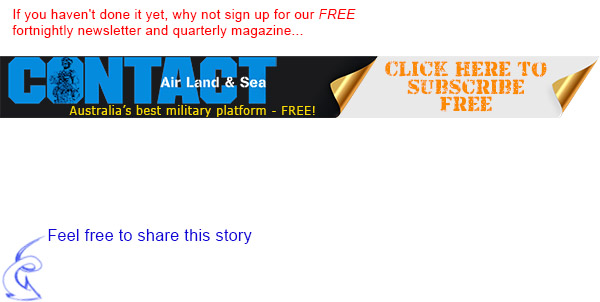 .

.

---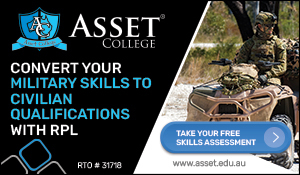 ...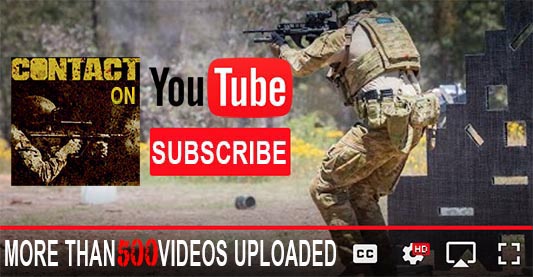 ---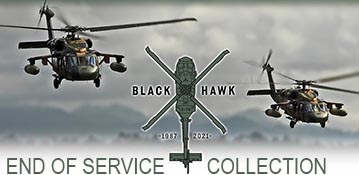 ...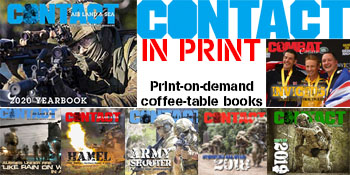 ---
.
.
18472 Total Views
1 Views Today