The CONTACT YEARBOOK Volume 1 is a 100-page hard-cover coffee-table book you'll love to browse, read, display and collect – or give away as a gift.
It's filled with a selection of the best stories from 2015 – ALL STORIES, NO ADVERTISING.
This is a true collectors' item – we will print no more than 250 copies, and each one is numbered and customised with the new owner's name (or any other detail you ask us to include).
Buy now – there are still some left.
This is the first issue of a new series of CONTACT Air Land & Sea in print. If you think you might collect the series, make sure you don't miss this limited-edition first issue.
Find the CONTACT YEARBOOK VOLUME 2 on sale here.
This is a print-on-demand product.
Order your book via the PayPal 'Add to Cart' button above.
When we get notice of your payment, we customise your book to reflect your name and the book collectors' number, then upload the files to the printer.
Then the printer prints your one-of-a-kind, customised book and mails it direct to you.
They say you should allow up to 30 days for production and delivery – but they are usually much quicker than that.
Prices are quoted in Australian dollars and include mail.
NOTE: If you have any doubts about the ordering process, or want to give us extra instructions, write to editor@militarycontact.com or call Brian on 0408 496 664.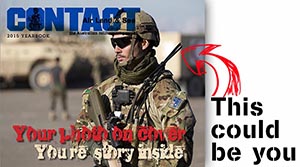 You can also customise your CONTACT Yearbook by adding your own or a friend's photo to the cover or by replacing up to 8 pages with your own or a friend's story and photos inside. View details of the Customised CONTACT Print Edition HERE.
.
.
.
.
I can thoroughly recommend the CONTACT 2015 yearbook. It is a great collection of all the best stories and images from 2015 in an attractive hardcover coffee-table-book format. CONTACT magazine has a long history of bringing us interesting and exciting stories about the ADF, together with excellent images. Whether you are a serving member, veteran, historian or are just interested in our military, you will find this book is an engaging and informative read and a great addition to your military-book collection – Troy Simmonds, WA
[Sergeant Troy Simmonds, Australian SASR, completed several operational tours of Afghanistan. His most memorable and deadly encounter with the enemy is the feature story in this book]
. 
Received my yearbook today. Absolutely stunning book and the pictures are also of a high caliber. Thanks for putting such a great read together. I don't understand why you haven't sold out of them already! Nothing like a good-quality glossy book in your hands – Heath Guest, Queensland
Great news… yearbook just arrived! Looks fabulous & I love the "dedication" 🙂 Will send you my thoughts [when I've read it], but honestly…just love having CONTACT in paper again 🙂  –  Sue M
The book arrived and i can't wait to start reading it. Thanks for all of the work you have done to get this printed and information gathered from the ADF. I am very grateful for the work you do and I hope that the big plans for this year or next year come together to make this magazine successful – Thanks, Oscar
Thanks, Brian. Your Year Book is fantastic, excellent, great publication – Noel Wright
.
34481 Total Views
6 Views Today