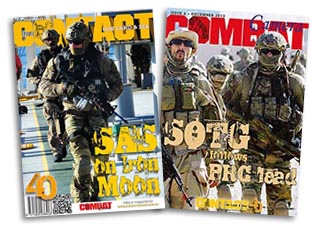 COMBAT Camera is an excellent photo-essay-based military magazine produced by the same people who publish CONTACT Air Land & Sea - Australia's best boots-on-the-ground military magazine.

COMBAT Camera is only available on the internet - and is completely FREE.

Starting with issue #41, CONTACT Air Land and Sea will also be available FREE to COMBAT subscribers as an e-magazine.
In the mean time, issue #40 of CONTACT Air Land & Sea will be in newsagents Australia wide from 2 December. Make sure you get a copy of this last printed issue for your collection.

Select one or more of the following lists to subscribe to (it's the same subscription, but you might want to register at home and at work etc) - and follow the prompts.

After filling out the form, you will receive an email with a link, which you must follow to 'confirm' your subscription. When you do, you will get another email giving you access to the current issue.

Then, as each new issue is published, you will be sent an email with a link to the next magazine.





.gov.au email subscribers:
For anyone with an Australian government email address.
required field