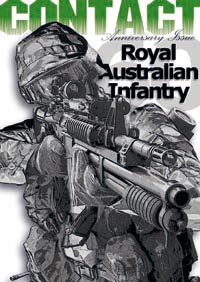 To mark the 60th anniversary of the Royal Australian Infantry Corps, CONTACT produced this excellent and well-reviewed special infantry-only issue

FREE ELECTRONIC MAGAZINE:
CONTACT Air Land & Sea is now available FREE as a page-flip, electronic magazine. Simply click here and follow the prompts to register on our free distribution list.
Upon registering, the 9 most recent magazines will be made available straight away. As each new issue is published, subscribers will be sent an email containing instructions on how to download the next magazine. CONTACT is published 4 times per year.